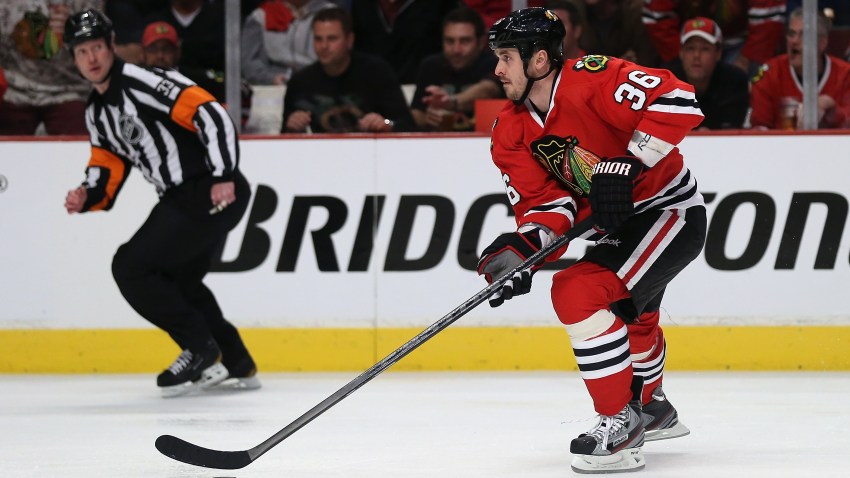 After the Chicago Blackhawks won their first round playoff series against the Minnesota Wild, they were fortunate enough to get back some key assets into their lineup.
Both Dave Bolland and Ray Emery returned to the team in time for their current series against the Red Wings, but while Emery hasn't played as Corey Crawford has nailed down the net, Bolland has, in a word, struggled.
Not only does he have zero points in five games, but he also has racked up 14 penalty minutes and is only averaging 12:37 of ice time in the series. It is a big fall from grace for a guy who was supposed to be the team's second line center heading into the season, but now just finds himself an afterthought as he and other players are shuttled throughout the lineup in an attempt to find a combination that works.
Even a look at advanced metrics, which can provide a more full glimpse into a player's performance than just goals and assists, are at best mixed when examining Bolland's play. He is the second-worst player on the team during the playoffs in Corsi (a measure of how many shots per 60 minutes a player helps his team generate in contrast to how many the team allows), and has the worst PDO on the team in the playoffs (a measure of puck possession).
In Bolland's defense, the team isn't exactly scoring at a very high clip when he's on the ice in large part because the team shooting percentage is so low, with a success rate of only 3.7%.
The regular season wasn't very kind to Bolland either. Despite playing a good chunk of his games with Patrick Sharp and Patrick Kane alongside him on the second line, he only managed seven goals and seven assists, and his 46 shots in 35 games played don't exactly speak to a guy who was confident in his offensive approach to the game.
Worst of all for Bolland, he is approaching the final year of his contract, so his poor play lately doesn't exactly bode well if he's hoping for a decent payday. He is due to make a shade over $3.3 million next season, which could make him a marketable trade piece but little else for a team past next season.
So what should head coach Joel Quenneville do with Bolland in Game 6? Benching him really isn't an option for several reasons. For starters, Quenneville has been unwilling to move Sharp to a center spot on the second line all season, and with no other guys really capable of performing that role in the lineup, the lack of quality replacements does work in Bolland's favor.
In addition, there is still something to be said about having Bolland on the ice and available to play defense against the Wings' big guns. His history suggests that he is capable of causing fits for opposing forwards come playoff time, and while he hasn't really shown that during these playoffs, the skill is one that could come in handy as the Hawks try to tie the series on Monday.
Ultimately, Quenneville is going to have to let Bolland ride out this rough patch, but his status on the team isn't set in stone for 2013-14, especially with a group of young prospects looking to make their way onto the NHL roster, as well as the team's salary cap issues that they could be facing if they want to re-sign either Viktor Stalberg or Bryan Bickell.