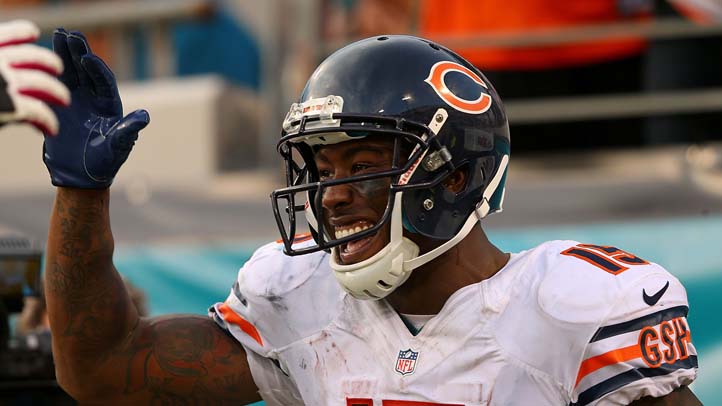 Brandon Marshall has officially been a Bear for just five games. It's way too early to start talking about his place in the Bears record books, but it's a bye week. Let's have some fun with statistics and think about what could happen if Marshall keeps up his blistering pace.

After Week 5, Marshall has 35 catches for 496 yards. This gives him a pace of 99.2 yards per game. That pace is the one to keep in mind as we break down these stats. Against Green Bay, he had just 24 yards, but against Jacksonville he had 144. Expecting him to pull out 99 yards per game isn't crazy.

This means we could reasonably expect him to finish with 1,587 yards. The biggest season any Bears receiver ever had was when Marcus Robinson grabbed 1,400 yards in 1999, and that was with Shane Matthews, Cade McNown and Jim Miller all throwing him passes at some point. Marshall could easily pass that mark, even if he averages just 83 yards per games.

But let's think long-term. Marshall is 28 years old, and he recently said he wants to retire a Bear. Barring injury (knock on wood, throw salt, spit twice), he can be expected to keep up the pace that has made him a three-time Pro Bowl receiver. Johnny Morris is the Bears record-holder with 5,059 yards, meaning Marshall will need three and a half 1,500-yards seasons to pass him, or just a touch more than 1,000 yards in five seasons to become Chicago's all-time receptions leader.

It won't take that long for Marshall to pass up his teammates. Among active players, Devin Hester has the most receiving yards with 2,679 and is ranked 20th. Marshall should pass that by the end of next season.

Is it too early to be expecting so much out of Marshall? Sure. But it is fun imagining what he can do for the Bears.
Copyright FREEL - NBC Local Media