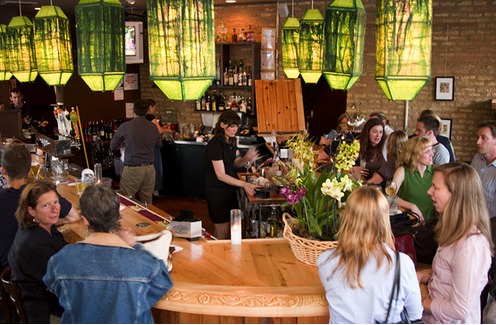 Ever yearn to get out, away from your regular office? Fellow employees can get annoying, and that couch in your home office can get quite alluring. A little change of scenery would do you some good. Lucky for you, Chicago offers hundreds of coffee shops to help you get your buzz on. But getting solid work done with appropriate amounts of caffeine is often a challenge with so many places to choose from. Since I'm always on the hunt for the perfect work spot, I've spent more than enough time checking out -- and hosting events in -- a variety of cafes. Here are my picks for getting some work done.
1. Starbucks' workspaces offer…well, you know what they offer. Cozy couches, sleek desks, and arguably the most argued-over coffee in all the land. ("Tastes great!" "Tastes burned!") I don't ever get serious work done there because the flow of people is too great and people-watching takes over my Twitter-watching, the latter of which is much more important.
2. Caribou Coffee's workspaces offer smaller venues, better hot chocolate, and the same stir of people coming in and out. If you like to work with headphones on, Caribou is just as good as any other venue. I like to have meetings in Caribou if the space is big enough, but often it's not, so Caribou loses. (Although truly, give their dark hot chocolate a try. You're welcome.)
3. Local coffee shops are a delight. They're smaller, quieter, and they have better coffee (not that I'm judging.) Uncommon Ground's two locations -- one on Clark and one on Devon -- come with coffee, quiet, and as green a menu and location as you can get. They offer certified organic food and drinks from their very own rooftop garden. If that helps you get your work done, head there. Then there's Lovely: A Bake Shop on Milwaukee. It bakes in the back, so sitting in that bakeshop smell is just delicious… and so is their space. They have an array of tables to choose from, and other than morning rush hour, it's a wonderfully quiet space to get stuff done. Small meetings are also standard there -- those in the know often choose to go. CityGrounds Coffee Bar is, hands down, the most beautiful coffee shop in town. Situated in Lincoln Park, the first-floor space is for a quick cup of Joe while you play Words With Friends. After that, head upstairs for a loft-like room filled with hand-crafted tables and chairs that makes the space feel clean and pristine -- and ever so quiet. If you're heading out of the city, try Blue Max Coffee or Eastgate Cafe in Oak Park. Both are local favorites and each is charming in its own right.
4. If you're looking for a bigger coffee shop to hold larger meetings, try Noble Tree Coffee & Tea. It has three floors to choose from and the topmost is so cozy it feels like you're in someone's living room. The only setback for those of you with bikes or babies: lots of stairs. There's also Delightful Pastries, where I host all my Founding Moms' Exchanges. It really is delightful. This shop sits down the block from The Second City; it's an old-world cafe with smaller tables and delicious Eastern European baked goods (which can get dangerous after several hours there.) It's quiet, owner Dobra is fantastic, and we've had up to 20 people in the place at once.
There's no doubt that I've missed mentioning many of your favorite coffee shops. If the ones listed above aren't close enough to you, head to Delocator.net and put in your zip code to find both local and corporate coffee shops near you. Then head over there and get back to work.
Jill Salzman is currently growing her third entrepreneurial venture, The Founding Moms, the world's first and only kid-friendly collective of monthly meetups for mom entrepreneurs. Having built two successful companies, she launched The Founding Moms to connect mom entrepreneurs around the globe with one another.In her spare time, Jill enjoys kloofing, traveling to small towns, and erasing her daughters' crayon artwork from the kitchen walls.