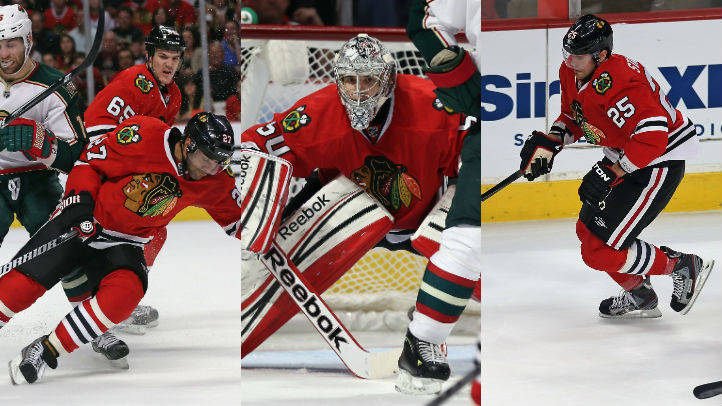 By now, fans have had nearly three days to chew on what went right and what went wrong for the Chicago Blackhawks in their 2-1 victory over the Minnesota Wild on Tuesday night.
Much has been made about various aspects of the team's game, including how physically tough they played, how little traction their forwards got in the slot area, and most importantly, how well Corey Crawford was able to play after giving up a soft goal at the beginning of the contest.
Now, as the teams get prepared for Game 2 on Friday night, what are the keys to the Hawks' defending home ice and taking a 2-0 series lead up to St. Paul this weekend? Three strategies in particular stand out:
Keep Zach Parise in Check
Before you click away out of a sense of excessive "DUH" syndrome, consider this: Parise had a good season, scoring 18 times and dishing out 20 assists for the Wild. No, those aren't elite-level numbers, but they are still very good for a team whose main aim in the past has been to play a responsible defensive game and places an emphasis on physical play.
Now, against the Blackhawks, that has been a different story. In the three games he played against Chicago this season, Parise had zero points and only had three shots on goal. If a team is able to shut down an opponent's top offensive producer to the tune of only allowing him one shot per game, then that is an accomplishment worthy of praise, and the Hawks were able to do that.
How can they continue that, you may ask? The answer is to keep putting Duncan Keith and Niklas Hjalmarsson in against him. While some folks thought that Keith had a bad game on Tuesday:
@jayzawaski670 Speaking of dmen not looking good...That would describe Duncan Keith last night. — Al Cimaglia (@AlCimaglia) May 1, 2013
The truth is that Keith actually did play well enough to keep Parise from finding open ice and getting opportunities. If you look at the shift charts at Time On Ice, you'll see that every time Parise was on the ice for the Wild, the odds were strong that it would be Keith and Hjalmarsson out there against him. Johnny Oduya and Michal Roszival may have gotten more ice time, and therefore lent credence to Mr. Cimaglia's argument, but shift charts don't lie. Joel Quenneville trusted Keith to shut down Parise, and he delivered.
Keep Crashing the Net
If there is one thing that Quenneville constantly mentions in his postgame bantering sessions with the press, it's that his team needs to crash the net and get pucks to the net. In Game 1, the team was able to do the latter but didn't have much success in terms of the former. That's because the Wild utilized a defensive strategy that dropped three players back, conceding the neutral zone largely to the Blackhawks but forced the attackers to dump the puck into the zone instead of establishing a perimeter-based possession.
The Hawks managed to beat that strategy several times, once using great team speed on the Marian Hossa tally and another time by taking advantage of a great stretch pass by Oduya to set up Bryan Bickell's game winner, but their long-term success will be determined by their ability to actually get guys to the front of the net to chip in rebounds.
Disrupting Josh Harding's rhythm is a crucial component to success for the Hawks, because if they let him settle into a groove like they did in Game 1, the goals will be just as hard to come by as they were in that contest.
Stay Patient
Last year, the Hawks played a team in the first round, the Phoenix Coyotes, whose sole goal is to induce an opponent into making mistakes, and then bludgeoning them over the head. That is how their offense is run, and the Minnesota Wild do essentially the same thing.
In order to prevent that strategy from working, the Hawks need to make sure that their defensemen, notably Nick Leddy, aren't getting too aggressive too early in the game. The patient way in which they tried to cope with the Wild's defensive strategy was akin to picking a lock in the first game of the series, and they have to make sure not to resort to desperation mode if they are unable to get an early goal in Game 2.
That is much easier said than done, but with a veteran group led by a veteran coach, there is no reason to suggest that they would be unable to do so.