As you've probably already heard, Patrick Sharp had an emergency appendectomy Monday after suffering some severe stomach pain.

According to the Hawks team doctor, he will miss two to three weeks of training camp.

This is generally how these things go, although Adam Dunn had the same procedure in April and only missed about a week. Of course, that didn't exactly work out well for the Sox or Dunn, as he's now set a bar to which only the most awful baseball players through the end of time will be able to aspire.

Hopefully, Sharp's recovery goes a little better. But any surgery can have complications and infections and whatever else, however unlikely, and we'll hope that doesn't happen here.
For Shooter? Well, if everything goes swimmingly and he's back before the season starts, the only effect should be just a slow start to the season. Sharp will miss almost a month of conditioning, and that's enough to notice. Timing will be off as well, things you can only do by repeatedly doing them in practice. He'll miss a few open nets, blow a few checks, be a little late to certain spots. He'll regain the touch though. Marian Hossa missed all of camp and two months in 2009, and came out gates blazing before hitting a wall. Same thing probably happens to Sharp.
What this means for the team? Well, Marcus Kruger will now almost certainly be your #2 center when the curtain rises in Dallas on October 7th. He will now get every practice there during camp, there's really no one else to take it. As we've said before, he'd really have to take a couple steps backwards and put a major dent in either Stan Bowman's or Joel Quenneville's car to not make the team now.
This will probably open a spot, at least during camp, on the top 6 for Viktor Stalberg. While he probably won't start the season there, it'll give him time to show the coaches that if there are future injuries at the top of the Hawks' lineup he can fill in. He's most cut out of the extra forwards to take that role. Rusty Olesz is another candidate to take some shifts on the top line.
It's not disaster as long as the procedure went well, you just hope it's not a trend.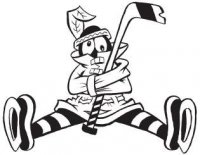 Sam Fels is the proprietor of The Committed Indian, an unofficial program for the Blackhawks. You may have seen him hocking the magazine outside the United Center at Gate 3. The program is also available for purchase online. Fels is a lifelong 'Hawks fan and he also writes for Second City Hockey .