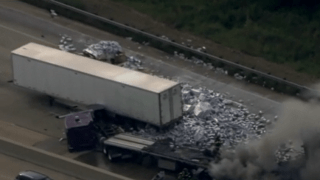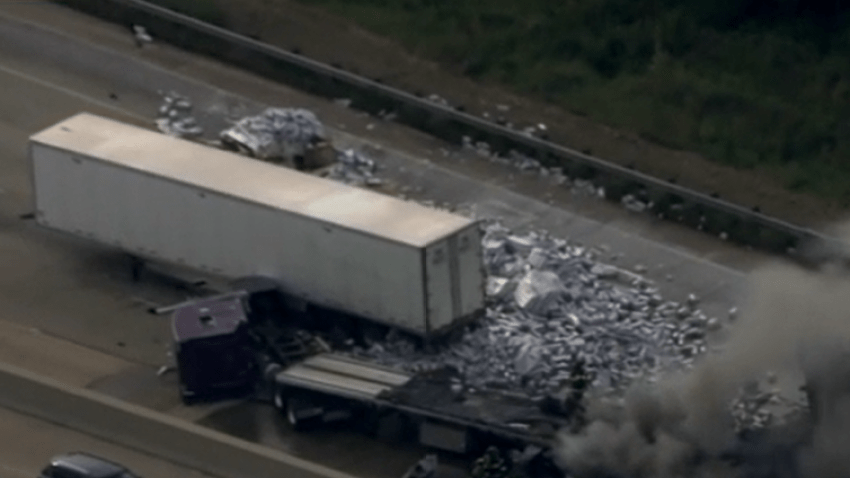 Westbound Interstate 80 was completely shut down for several hours in suburban New Lenox after a crash involving three semi-trailers and two other vehicles left debris and fiery wreckage all over the roadway.
According to state police, the highway was closed just after 4:30 p.m. after the crash, which left debris strewn across the roadway. Eventually traffic was allowed to pass on the shoulder, but traffic jams remained late into the evening Wednesday.
According to Illinois State Police, three semis were involved in the crash along with two other vehicles.
At approximately 4:24 p.m. Wednesday, a semi-truck was traveling westbound in the center lane on Interstate 80, with traffic stopped in front of the truck.
The truck appears to have failed to stop for that traffic, striking the rear end of another semi that was beginning to slow down. The impact caused both semi-trucks began to veer to the left, striking another semi, according to police.
That collision caused the first semi to become fully engulfed in flames, and the second semi rolled over during the crash.
The third semi crashed into two other vehicles.
According to state police, the driver of the first semi was taken to an area hospital with life-threatening injuries. The drivers of the other four vehicles were taken to local hospitals with non-life-threatening injuries.
All westbound lanes are shut down currently, with traffic beginning to be allowed down the shoulder to get off of the highway. Interstate 355 northbound is also shut down as part of the crash as clean-up continues.
Traffic remains backed up all the way to La Grange Road due to the crash, according to Total Traffic.
First responders remain on the scene, and the roadway will likely be closed for several hours.
We will continue to update this page with all the latest developments.