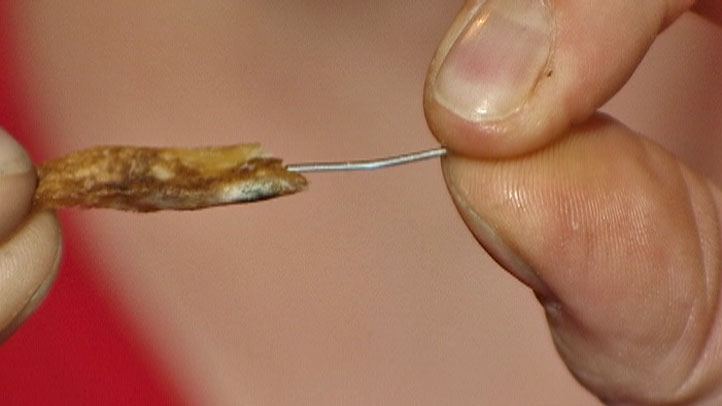 In the fine print, at the top of the logo of Wendy's Restaurant, you'll see the phrase, "Quality is our Recipe." However, a recent drive-thru dining experience now has a Chicago area family questioning Wendy's quality control.

Danny Keathley last Friday brought home a late night snack for his family in west suburban Melrose Park. He bought 15 items, including Wendy's new sea-salt covered fries.

His daughter, Jessica, 12, started to dig into her meal, but she didn't get very far.

"I was eating my fry and like I felt something sharp, that like hit my tooth," she said.

Jessica said her cousin told her there was something in her french fry. She said she pulled out an inch-long piece of metal and screamed for her dad.

"When I seen it, I couldn't believe it," said Danny Keathley, who told NBC Chicago he immediately called the Melrose Park Wendy's where he bought his food.

Keathley got a refund for his $25.57 purchase, and early the next morning filed a formal complaint with the fast food chain's customer hotline.

A Wendy's spokesman said that before their Melrose Park restaurant opened Saturday, they inspected their equipment, including their fry baskets, and found no metal missing.

"We haven taken this issue seriously," said Denny Lynch Senior Vice President Communications, Wendy's Restaurants. "What is undetermined is how this piece of metal got into the fry."

When reminded of all the hoaxes involving alleged foreign objects found in fast food over the years, Keathley responded: "We have no reason to lie. I'm not in any kind of financial situation where I need any kind of money or anything like that. My bills are all paid. I'll take any lie detector test out there."

Keathley said he's not interested in suing. He said he wants an apology and an explanation.

"My daughter's terrified. She won't even eat now. She didn't eat lunch in school... This is ridiculous," he said.

The Wendy's spokesman said an area manager called the Keathleys to follow-up and said the restaurant chain alerted its insurance company, as part of standard operating procedure, should the family file a claim.

Keathley said his daughter was not physically injured. Her mouth and teeth are fine, he said.