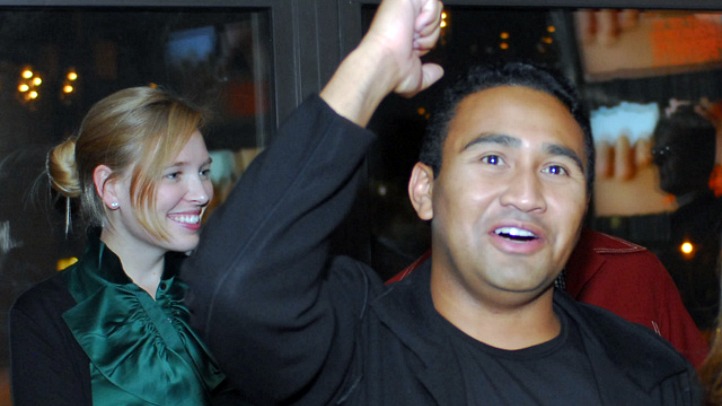 HOOP IT UP: There's no shortage of places to watch the games this weekend, but Rockit Bar & Grill takes it up another notch Sunday with a hoops-watching fiesta that benefits the Big Brothers Big Sisters of Metropolitan Chicago. If you're gonna watch the games anyway, might as well help a good cause at the same time, right? Ticket price includes 4-6 p.m., 22 West Hubbard St, Tickets $35

THREE FEET HIGH: Hip hop pioneers De La Soul hit The Shrine Friday night for a concert sure to please all the old skool heads in the house. Concert will be followed by the sounds of new weekly resident DJ Mark Fullaflava. 9 p.m., 2109 S. Wabash, Tickets $30

STREET ART: Pawn Works and Maxwell Colette Gallery are joining forces to bring internationally lauded contemporary artists to Chicago involved in the Street Art movement. The first in a series of exhibits, "GAIA: Resplendent Semblance," showcases the works of the artist Gaia, which includes new, large scale paintings and decollage on wood art works. The artis will attend an opening night reception on Friday. 6-9 pm., 1050 N. Damen Ave

ROCK THE RUNWAY: Former Chicago Fashion Incubator resident Anna Hovet presents her Fall/Winter 2011 fashion show Saturday night at The 900 Shops CFI Pop-Up Shop. Tickets must be purchased in advance and can't be bought at the door. 8 p.m., 900 N. Michigan Ave - 5th Floor, Tickets $15

GIRL POWER: Platinum Events and CS Magazine present the "I'm Every Woman" Woman's Empowerment Expo Saturday at the Hilton Chicago. The event features giveaways, exclusive exhibitors, interactive workshops and guest speakers including social media wiz Liz Strauss and socialite Candace Jordan. 12-4 p.m., 720 South Michigan Ave, Tickets $20

LIGHTS OUT: Celebrate Earth Hour Saturday night at Swissôtel Chicago and Fairmont Chicago. When the world goes dark at 8:30 p.m., both hotels will turn off the lights and offer drink specials by candlelight.

GO GREEN: Didn't get your St. Patrick's shenanigans in this month? Keep the party going this weekend at the Unofficial St. Pat's Crawl for alumni and friends of the University of Illinois at Urbana-Champaign -- or whoever else wants to party. It all kicks off at Casey Moran's at 10 a.m. Saturday, and moves to seven other bars throughout the day. Click here for schedule and ticket information.

HEY JOE: In honor of National Joe Day on Sunday, Joe's Seafood, Prime Steak & Stone Crab offers its Pie for Joe and Joe for All" specials. If your name is Joe -- or Joanna, Josephine or anything similar -- you get a free slice of Joe's famous homemade pie with the purchase of an entree. Even if you were not blessed with that moniker, there's still something in it for you -- a free cup of "Joe" for all visitors.