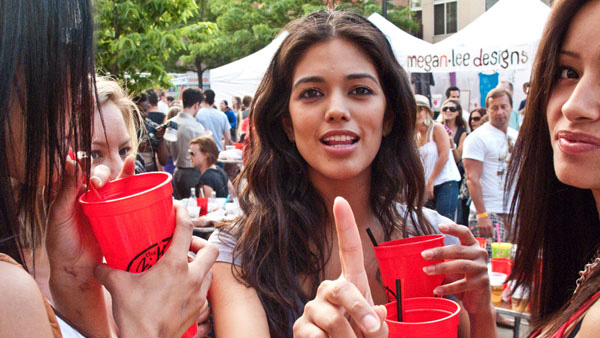 SAT-SUN: The always-popular Do-Division festival goes down on 10 city blocks on Division from Ashland to Leavitt. You'll find shopping, live music, food and a Family Fun Fest. Around 50,000 people attend this event every year, so people watching will be at a premium. $5 suggested donation.

THURS-SUN: Mayfest (or "Maifest" if you prefer), is the traditional German celebration of the arrival of spring. The 12th annual festival hits Lincoln Square with four days worth of live music, maypole dancing, plus German food, beer and arts and crafts. Click here for times and more information.

SAT-SUN: Tap your inner Abe Froman and head to Wrigleyville for the annual Lakeview Sausage Fest, which celebrates the wonders of large encased meats. Enjoy live music both days from 12-10 p.m., right in the shadow of Wrigley Field. $5-$7 suggested donation

SAT-SUN: Literary types will want to head to the South Loop for the Printers Row Lit Fest, the largest free outdoor literary event in the Midwest. More than 125,000 book lovers are expected to attend the showcase, which includes dozens of booksellers, and seven stages of programs spread across five city blocks on Dearborn from Congress to Polk.

FRIDAY: Glee star Mark Salling makes an official appearance at Enclave following the "Glee Tour 2011" at the Allstate Arena. The ladies will no doubt want to get a glimpse of the TV star who plays the bad boy Noah Puckerman on the show. RSVP in advance for free admission before 11 p.m., or cover starts at $20 at the door.

SAT: Young professionals will don their finest for "Night Heist" at the Modern Wing from 8-11 p.m. The soiree includes music by DJ A-Cup and a live performance by Gemini Club, along with complimentary cocktails and hors d'oeuvres, an on-site action photo booth and the opportunity to ogle the art after hours. Tickets are $85 or $150 for a VIP package.

SUNDAY: Kit Kat Lounge & Supper Club celebrates what would have been Marilyn Monroe's 85th birthday with a themed brunch in honor of the Hollywood icon. Kit Kat Diva Madam X will perform during brunch service as the ultimate icon herself, so expect rousing renditions of "Diamonds Are a Girl's Best Friend" and "I Wanna Be Loved By You." "Monroe Martinis" will be on special for $5 each. 11 a.m.-3 p.m.