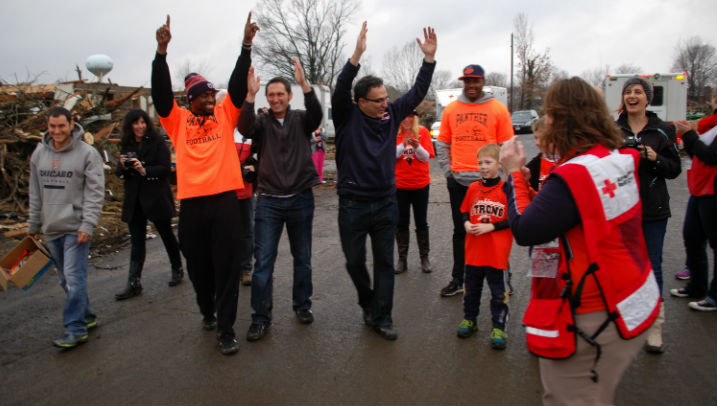 The Chicago Bears helped kick-start more than relief efforts during a trip this week to tornado-ravaged Washington. They gave one young resident a "Gould"-en opportunity.
Washington resident Brian Williamsen said he surprised his sons when he took them to the area where the team was helping with cleanup efforts.
"The boys love the Bears," Williamsen said. "They're huge Bears fans."
The trio met with the players, got autographs and took pictures with some of the players. As the group prepared to leave, Williamsen told Bears kicker Robbie Gould how his young son, Logan, loves kicking and even asked for a tee for Christmas.
"He's crazy about kicking," Williamsen said. "He's always practicing."
That was enough for linebacker Blake Costanzo to take matters into his own hands and give 7-year-old Logan an "audition."
Williamsen said Costanzo set up a pack of Nutter Butter cookies on top of his shoe and told Logan to kick a field goal with them.
With one player holding his arms up to make goal posts about 15 feet away and Gould prepared to catch the makeshift football, Logan lined up and kicked.
The kick was good.
The crowd erupted in applause and teammates threw up their arms.
It was a day Logan calls the "best day of his life," Williamsen said.
"'Unbelievable' is the best word I can come up with, but that's not even a strong enough word," he said.
And the day was equally inspiring for Bears players.
"It was an awesome day," Costanzo said. "It just shows you the power of people. When people get together and help each other out, it just shows you can get through anything."
"It was definitely uplifting," Gould said. "There's no doubt about the energy the guys brought down from Halas Hall.
Williamsen said the family plans to frame the boy's shirt and save the cookie football.
"We're not going to eat the Nutter Butters," he said. "That's part of the day forever."