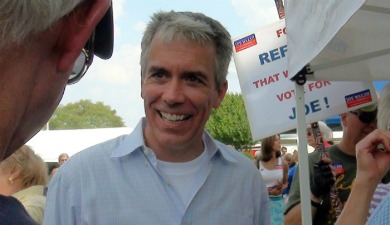 During this fall's congressional elections, the Democrats think their re-map will win them 12 seats. But we predict the best they'll do is 10. Nine of these races favor Democrats, eight favor Republicans, and one is a toss-up.

1st District: Incumbent Bobby Rush (D) won't even have to campaign against Republican Donald Peloquin in a district that has been held by an African-American since 1929 -- longer than any other in the nation -- and a Democrat since 1935.

2nd District: This district has been Democratic since 1953. Rep. Jesse Jackson Jr. (D) won re-election by defeating former Rep. Debbie Halvorson in the primary.

3rd District: Rep. Dan Lipinski (D) inherited the seat from his father, Rep. Bill, and has never been seriously challenged.

4th District: The state's Latino district was drawn to re-elect Rep, Luis Gutierrez (D) , and it will.

5th District: Except for the one-term pest Michael Patrick Flanagan, this district has been represented by a Democrat since 1907. Rep. Mike Quigley (D) will continue the streak.

6th District: This is the "Republican vote sink" in the suburbs, drawn to corral as many Republicans into one district, to prevent them from voting against Democrats in adjacent districts. As a result, Rep. Peter Roskam (R) will win re-election easily.

7th District: Rep. Danny Davis (D) couldn't get elected 29th Ward committeeman, because voters wanted him to concentrate on Washington. They'll keep him there.

8th District: Former Assistant Veterans Affairs Secretary Tammy Duckworth (D) will defeat Rep. Joe Walsh (R), but this nationally-watched race will give Walsh a head start on his future career as a right-wing radio commentator.

9th District: Rep. Jan Schakowsky (D) is the most popular elected official on the Far North Side and the Near North suburbs.

10th District: The 10th District knows how to split tickets. Even as it voted for Al Gore, John Kerry and Barack Obama, it kept Mark Kirk in Congress. Rep. Bob Dold (R) will benefit from the district's independence in a race against Brad Schneider. The endorsement of Kirk, who is recovering from a stroke, will help, too.

11th District: This district has also been redrawn to favor a Democrat, but that Democrat turns out to be former Rep. Bill Foster, whose congressional victories were against perennial loser Jim Oberweis. Foster won't be strong enough to overcome moderate Republican Rep. Judy Biggert.

12th District: The Cook Political Report calls this race between Democrat Brad Harriman and Republican Jason Plummer a toss-up. The district voted for Obama in 2008, but the Republican primary attracted more voters.

13th District: This is another district whose support for Obama won't necessarily translate to a victory for a Democrat. Republican incumbent Tim Johnson is the favorite.

14th District: An easy win for Republican Rep. Randy Hultgren against negligible Democratic opposition.

15th District: Republican Rep. John Shimkus will easily defeat retired nurse Angela Michael.

16th District: Every 10 years, Illinois loses a congressional seat and two incumbents get thrown together in one district. This time, Rep. Adam Kinzinger (R) defeated fellow Republican incumbent Don Manzullo. He'll win in November.

17th District: Rep. Bobby Schilling (R) got a new district that includes parts of Rockford and Peoria, giving it a Partisan Voting Index of +6 Democratic. Democrat Cheri Bustos, a former TV reporter and East Moline alderman, is getting help from Democratic Congressional Campaign Committee's Red to Blue program. That gives her the edge.

18th District: Not even appearing half-naked on the cover of Men's Health can hurt Rep. Aaron Schock's popularity.