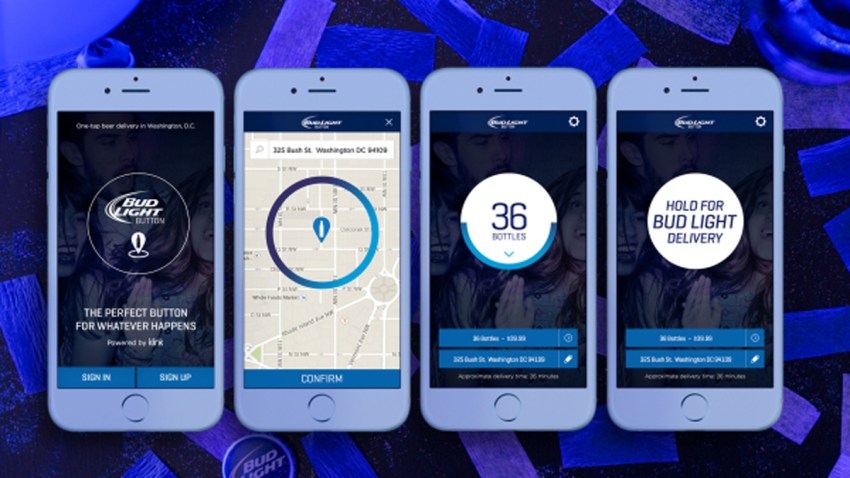 Some Bud Light lovers can now get beer delivered to their door with the tap of a smartphone screen.
With two weeks to go until Super Bowl Sunday, Anheuser-Busch has introduced a new app offering home delivery of Bud Light in less than an hour.
The free app "Bud Light Button" made its debut in Washington, D.C., this week. It provides Bud Light during the legal hours that alcohol is allowed to be sold in the city. The company said a "nominal" delivery fee will be charged, but did not specify the amount.
As of Thursday, D.C. residents of legal drinking age were able to order between one and 100 cases of beer with just the touch of a button.
The app is part of Bud Light's "Up for Whatever" campaign to encourage customers to have spontaneous fun.
David J. Hanson, professor emeritus of sociology at the State University of New York at Potsdam, said the app follows with a broader trend dry counties becoming wet and the decline of blue law prohibitions against Sunday sales of alcohol.
"I think a lot of people will be willing to pay the extra fee for home delivery. Hopefully it will decrease the number of drinking and driving injuries as well," said Hanson, who has researched alcohol and drinking for more than 40 years.
He hopes to see the app spreading to all 50 states, predicting that it will do well if the company sees people vote with their dollars... or with their pointer fingers.
However, Emily Feinstein, director of Health Law and Policy of CASAColumbia, a non-profit organization affiliated with Columbia University that helps Americans with addiction and substance abuse, has raised concern about giving a tap to this app.
"Any use of technology that encourages excessive drinking or increase access to alcohol for teens is a serious public health concern," Feinstein said.

She believes that young people will be harmed the most by this app as "enticing alcohol promotions like these have been shown repeatedly to increase the risk of drinking and the volume of alcohol consumed."
CASAColumbia warns that excessive alcohol consumption is a leading cause of premature death, accounting for 10 percent of all deaths among working-age adults.

Colleen Sheehey-Church, national president of Mothers Against Drinking and Driving is still worried about the excessive alcohol consumption taking place inside D.C. homes.
"MADD urges adults that any time alcohol is purchased - at a store, by mobile device, or elsewhere - to always designate a non-drinking driver if they choose to drink," Sheehey-Church said.
The app is currently only available on Android-powered smart phones; an IOS version is coming soon.
For more information on how to download the app, click here.