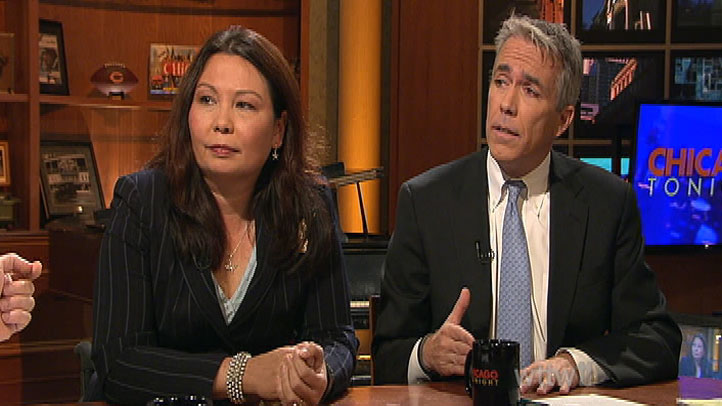 A fourth debate between candidates in one of the country's most-watched congressional races Thursday night saw Democrat Tammy Duckworth and Republican U.S. Rep. Joe Walsh occasionally interrupt one another but not devolve into name calling as in previous meetings.

The 30-minute debate aired on WTTW's "Chicago Tonight." The candidates disagreed on issues ranging from immigration to abortion.

"I would counter my position on life and abortion with Ms. Duckworth's, who supports no restrictions on abortion," said Walsh.

"He would let a woman die rather than to give a doctor the option to save her life," Duckworth countered, drawing a repeated "That's not fair," from Walsh.

Responding to a viewer question about the role of federal government, the two had very different value-based answers.

"We are born with God-given rights and God-given freedoms and our founders believed, as we should all believe today, that the federal government is there to ensure that our God-given rights and our God-given freedoms aren't trampled upon or taken away," said Walsh.

Duckworth said the federal government exists to maintain defense of the nation and to ensure that no one gets left behind.

"I also think that it is important in our society that Americans have come together and decided there is an importance for social safety net programs, so that if you're on your knees and you need help and you're not willing to give up, we shouldn't give up on you either. That doesn't mean you stay on them forever, but you need to get off of them, but they should be there for you," she said.

In another exchance, Duckworth, an Iraq War veteran who lost her legs in combat in 2004, accused Walsh of insinuating that she has overplayed her military service to get elected.

"My opponent is the one who planted that comment,'' Duckworth said. "He says many things that are irresponsible for a congressman to say."

Walsh, elected to Congress in 2010, told voters he wouldn't compromise on not raising taxes or refusing to approve more debt. Duckworth, who ran unsuccessfully for Congress in 2006 in another district, said Congress needs to fix problems with the Affordable Care Act health law.
The Associated Press contributed to this report.