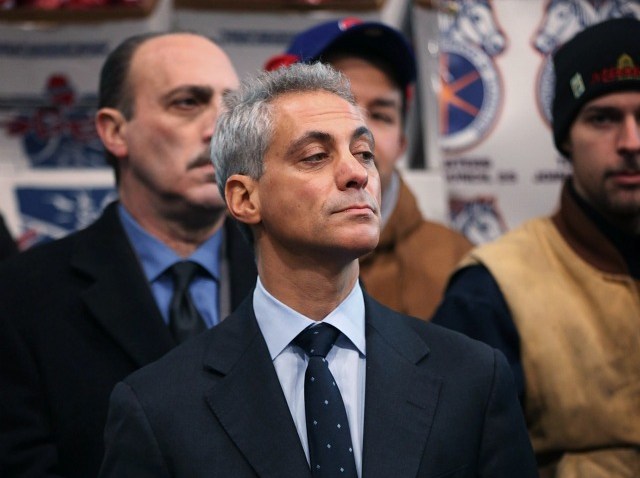 An Illinois Supreme Court decision to either keep Rahm Emanuel on the mayoral ballot or remove him again could come as early as today. Or tomorrow. Or the next day.
Meanwhile, multiple issues are swirling around the case. Not the least of which involves Illinois Supreme Court Justice Anne Burke, who told Crain's Chicago today that she would not recuse herself from the residency case involving Emanuel, despite appearances of conflict of interest.
Burke is married to Ald. Ed Burke, who has endorsed Gery Chico for the mayor job. But Anne Burke told Crain's that she has her own mind, saying there are spouces in all kinds of business.
Until a decision comes down, Emanuel's camp keeps campaigning, preparing for Thursday's WGN debate and maintaining support. And waiting.
"I'd like clarity," Emanuel told reporters today after meeting with area vets in a roundtable discussion.

Residents are waiting too. And while they do, they're sticking with the candidate. Results of a new survey conducted by a local independent polling group showed Emanuel snagging 48.2 percent of voting support, followed by Carol Moseley Braun with 17.6 and Gery Chico with 13.5. Polling took place earlier this week, as news broke about Emanuel's name being removed from the ballot.

Also today, Ironworkers Local #63 stood by Emanuel with an endorcement, citing the candidate's experience and ability to deliver city reform.

"Local #63 is impressed with the leadership Rahm has shown fighting for working families throughout his career," Business Manager Ray Dean said in a statement.

But that leadership won't mean much to voters if Illinois Supreme Court judges don't let him run for the election.

After Monday's Illinois Appellate Court voted to remove Emanuel's name from ballots, the Supreme Court's granted Emanuel partial stay Tuesday to replace it.

What does that mean for voters? Ballots may change days before early voting starts.