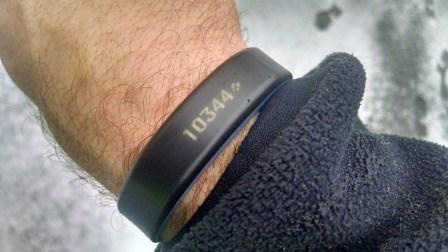 The Garmin Vivosmart is a feature-rich activity tracker that is meant for runners to appreciate both on the road and off the road, whether you're a tech-savvy runner or just looking for a way to actively track your day.
[[288556761, C]]
Out of the Box
I've reviewed the Vivofit, an older Garmin activity tracker, and I loved the fact that it was ready to use right out of the box. With the Vivosmart, however, I needed to charge it first. This was by no means a deal breaker, but I find it a little less convenient because it is not battery-operated.
[[288557091 , C]]
I charged the Vivosmart for roughly 30 minutes, and then I was up and running. My first impressions were that the digital display was crisp and easy to read. With a double tap on the touchscreen and then a finger swipe to the left or right, you can view the various settings.
Clock: I love this function because it's not a given for most activity trackers.
[[288557431, C]]
Smart Notifications: You can sync the Vivosmart to your smartphone, and it will display texts, emails, smartphone alerts and social media updates.
[[288557001, C]]
Music: You can control your music right from your wrist, so it's easy to change a song or raise the volume when you're moving.
Miles: This function takes the number of steps you make and equates it to mileage.
Calories Burned: The calculation seems a little off because it showed that I already burned a large number of calories in the morning before I even began running.
Move Bar: I'm a desk jockey, so this function is perfect for me. Vivosmart vibrates periodically to remind you to start moving when it shows little movement over time. If you walk or move enough, it resets the counter.
Step Goal Counter: This displays your goal for the day and lets you know how much more you need to meet that goal.
[[288556901, C]]
Steps: Like any activity tracker, this function tells you how many steps you've taken throughout the day.
When you hold your finger down on any of the touchscreen features above, you'll find a whole new menu of features:
Sleep Mode: This function tracks your sleep patterns.
Other Features: The rest of the smaller features include a timer, brightness level, a find-your-phone system and sync.
[[288557501, C]]
All of these features could be useless, however, if your phone is not Bluetooth compatible. While my smartphone does have Bluetooth capabilities, I found that it is not necessarily Vivosmart compatible. Garmin says that Vivosmart will work with certain phones, but, unfortunately, it does not work with my Moto X. This means that I can still receive my smart notifications, but syncing up with Garmin Connect to view my data was spotty at best.
Garmin provides a list of compatible smartphones, so be sure to check it out before making a purchase.
To get around my phone's incompatibility with Vivosmart, I used the ANT+ sync feature with my PC to collect stats and view them on Garmin Connect. It's not ideal, but it works.
[[288557341, C]]
Vivosmart On the Run
Running with Vivosmart makes for a truly connected experience. I like to listen to music while I run, so the music control function was a hit for me. You can quickly advance to the next song without looking at your smartphone.
[[288557231 , C]]
The downside of the connected experience is that you'll also receive alerts for incoming emails, texts and other social media updates, which can lead to information overload when you're trying to enjoy a nice head-clearing run.
Accuracy is an important requirement for runners that use activity trackers. The accelerometer is as god as I've seen, and I've reviewed a number of activity trackers. While I did find Vivosmart to be slightly generous with steps while running, it wasn't too far off.
Finally, the fit and feel of Vivosmart on my wrist is really comfortable. Its slim design and non-abrasive materials rest nicely compared to bulky GPS watches.
Specs Worth Considering
There's an option to pair Vivosmart with a heart-rate monitor while running, or you can link it with MyFitnessPal. If you're working toward a weight-loss goal, these are great ways to monitor calories burned via Garmin Connect.
Lastly, while seemingly trivial for some, Vivosmart comes in five different colors, so it won't be too difficult to match your style and taste.
Final Thoughts
While my smartphone wasn't the ideal fit for Vivosmart, I still received most of the benefits. It has a sharp design that runners will find appealing, and it provides a connected experience that makes going on a run more convenient.