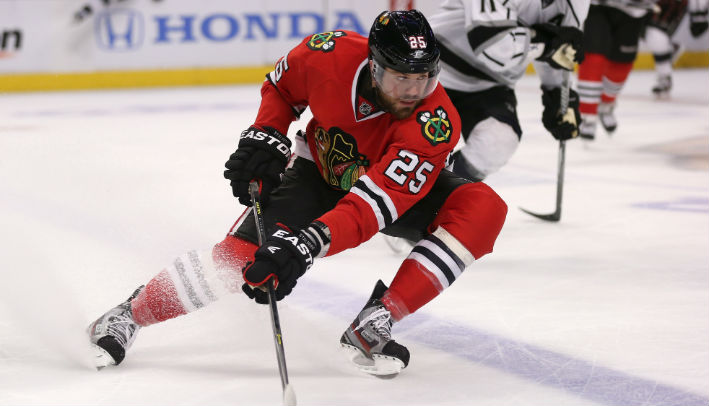 After Brandon Bollig turned the puck over at the blue line, an error that led to the game winning goal by Boston Bruins forward Daniel Paille, the prevailing wisdom around the Chicago Blackhawks has been that Viktor Stalberg would return to the lineup for Game 3.
Monday's morning skate seemed to confirm those suspicions, as Stalberg was on the ice with Marcus Kruger and Michael Frolik during practice. Meanwhile, Bollig was skating with Daniel Carcillo and the rest of the reserves, meaning that he is likely out of the lineup for Chicago.
Stalberg, who has had one assist in each of the Hawks' three series, and who has zero goals in the playoffs, will be looked upon to help the team's speed, a point of concern after their Game 2 loss at the United Center Saturday. In that game, the Hawks were bludgeoned into oblivion by the Bruins' bruising physical game, and they simply weren't able to skate fast enough to evade the barrage of hits.
Speed is one thing that Stalberg brings to the game, regardless if the scoresheet shows it or not. He will NOT be the magic bullet that will cure what ails the Hawks as they look to steal a game in Boston, but his presence in the lineup may give fans an idea of what to expect in terms of a gameplan on Monday night.