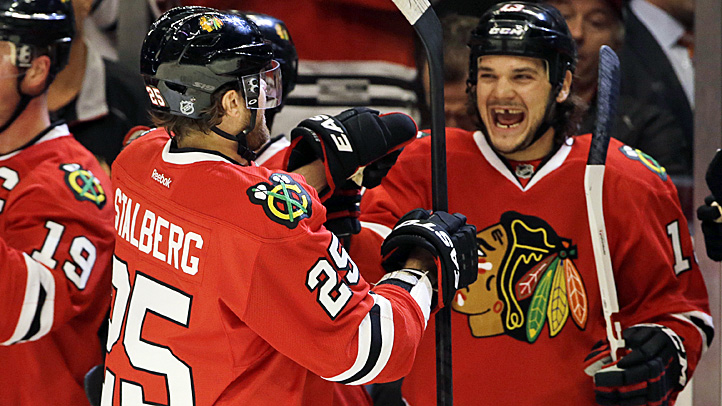 The Chicago Blackhawks and Detroit Red Wings will begin their second round playoff series on Wednesday night, but there's still a lot of question marks about who exactly will be in the lineup for Chicago.
Center Michal Handzus -- who head coach Joel Quenneville seemed happy with in the second line center slot even with the impending return of Dave Bolland -- has missed the last two days of practice, and it's unclear whether or not he will be in the lineup for Game 1. Also, Ben Smith has been working with the main lines the last few practices, so there's questions as to whether or not he will be in the lineup on Wednesday.
The biggest question mark, however, is Viktor Stalberg. The winger had what could be termed a lackluster first round of the playoffs, notching only one assist and no goals in five games. In response to his difficulties on the ice, Quenneville put Stalberg in a white jersey at practice this week, denoting him as a "reserve" instead of a starter.
Now, if he had done this in one practice, it could be easily termed a "message sending" exercise or something to that effect, but seeing as he's now done it on multiple days, it's clear that Quenneville isn't merely dissatisfied with Stalberg's performanc -- he may actually be in the full-on doghouse, which could earn him a spot in the press box instead of on the bench when the playoffs begin.
Quenneville has been known to dump players from his rotation in the past. Jamal Mayers is a great example of that, having been stuck on the "healthy scratch" list all season long even as players like Daniel Carcillo and Brandon Bollig saddled the Hawks with players who seemed to be able to do nothing but pick up ill-advised minor penalties and not contribute elsewhere.
Stalberg seemed pretty miffed after yet another practice being stuck in reserve duty, telling the media "I don't really have anything to say about it. Ask Q." He also said that he felt he had played some of his best hockey against the Wings this season, and seemed angrily perplexed about his seeming demotion.
Normally, we defend the decisions that Quenneville has made tall season, especially in regards to who would be the team's starting goalie between Corey Crawford and Ray Emery, but in this case, he is flat out wrong. Yes, breaking up the third line was going to have to happen because of the chemistry Handzus has with Patrick Sharp and Patrick Kane on the second line, but having Daniel Carcillo in the lineup instead of Stalberg reeks of the kind of Neanderthal thinking that seems to pervade Quenneville's mind from time to time.
For instance, at practice Tuesday, Carcillo got into a bit of a scuffle with Mayers, and Quenneville said that he wasn't concerned.
"I've seen many of those. I think it shows how competitive it is. Guys want to play," he told the media scrum after practice.
This notion that Quenneville wants a guy in the lineup who is so unable to keep himself in check that he will nearly get into a fight the day before a playoff game shows how out of touch with the reality of the challenge that the Hawks are facing against the Wings, and it colors fans' perspective of his judgment in the Stalberg matter even more.
If Quenneville genuinely believes that having Smith in the lineup over Stalberg will help the team, then that is one thing. The fact that he might think that Carcillo gives them a better chance to win on the fourth line with Michael Frolik and Marcus Kruger, however, is patently absurd. Over and over again, and even in these playoffs, Carcillo has shown that the only thing he brings to the ice is a willingness to take dumb penalties, and Quenneville even benched him in Game 4 because of that undisciplined approach.
Having a guy in the starting lineup who you only feel comfortable playing either in limited fashion (he only played 3:55 in Game 4 because of a stupid early game penalty) over another player who can push the tempo against a Detroit defense that isn't the stoutest that the Blackhawks have ever faced is simply ludicrous. Stalberg brings plenty to the table than a guy like Carcillo (who, lest we forget, Quenneville inexplicably has placed on the top line repeatedly, much to the disdain of Hawks fans). All of this message sending has gone too far.
The odds are that Quenneville will regain his senses and put Stalberg back into the lineup in place of Carcillo, but if he doesn't, then this notion that Quenneville can do no wrong will take a serious hit. Stalberg needs to be in the Game 1 lineup against the Red Wings, because he gives the Blackhawks a better chance to win, and that is the ultimate barometer when the Stanley Cup is in question.