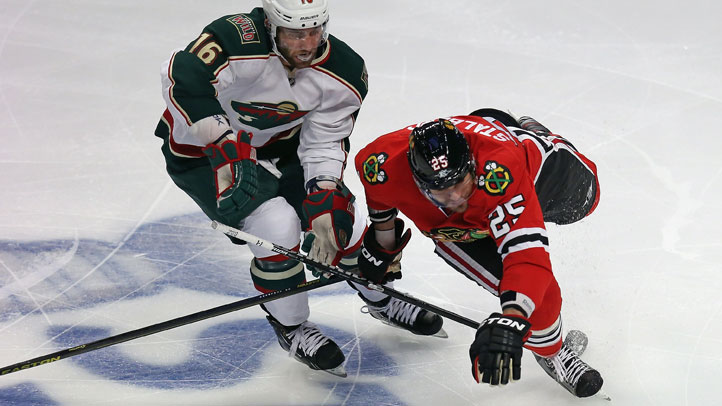 Viktor Stalberg, whose welcome was so worn out with the Chicago Blackhawks that head coach Joel Quenneville ended up benching him several times in the playoffs, spoke to the media on Monday about the new opportunities that he has with his new club, the Nashville Predators.
"I wanted to come to a team where I could have a bigger opportunity and play a little bit more," he told the media. "As you guys know, in Chicago we had superstars…It's tough to get the opportunity ahead of those guys, and they're going to get the big minutes. I had a couple of good years there, but I think I can keep improving. I don't think I've reached my potential."
That quote was an interesting one, but a little deeper in the ESPN.com piece on Stalberg's comments, there is another gem that is worthy of examination:
"Asked whether he got a fair shot at becoming a top-six forward in Chicago, Stalberg replied, 'Yes and no.'

"Certainly you can't be mad at that either. Look at that lineup. That's just the way it is. It's probably the last couple of years the best team in hockey if you look at the roster. At the same time that you want to be on a good team – winning and all that – it might not be the opportunity to reach my potential."
To a degree, Stalberg has a point about not really getting the opportunity to crack the top six. Guys like Bryan Bickell, Brandon Saad, Michael Frolik and even Daniel Carcillo were given chances at wing spots in the upper half of the Hawks' lineup, but Stalberg never really got that chance.
The issue with his statements is that he was given plenty of opportunities to flourish offensively, and he simply could never get the job done. Despite being with Bickell and Andrew Shaw on the third line for the majority of the season, on one of the few lines that Quenneville tended not to shuffle too often, Stalberg only had nine goals and 14 assists in 47 games. These low numbers came in spite of starting more possessions in the offensive zone, 63.9% of them to be precise, than any other regular Hawks player in 2013.
Nashville head coach Barry Trotz echoed Stalberg's sentiments, saying that "he ended up being on the third line, some fourth line, which is probably not his role. You don't get the same opportunities."
The problem is that Stalberg never compelled Quenneville to bump him up. Whether it was because of Stalberg's attitude (a widely cited reason he was benched during the playoffs was because he was complaining about a lack of playing time on the power play) or because of his inability to finish on the rush (he only converted on 8% of his shots on goal during the regular season, and didn't score on 27 shots in the postseason), the Swedish winger did have chances to shine, and he simply didn't.
Whether or not he will succeed in Nashville is impossible to tell, but one thing is for sure: if the narrative surrounding him becomes one of "he's taking advantage of a long withheld opportunity", then it's simply a fairy tale.