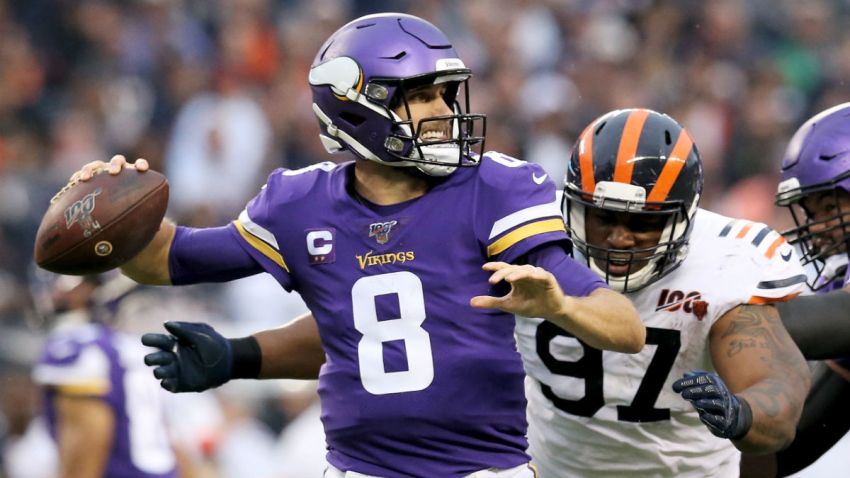 The Chicago Bears' win over the Minnesota Vikings on Sunday was a hard-earned one, as the team lost quarterback Mitchell Trubisky to injury and had to play without three key defensive stars, including Roquan Smith and Akiem Hicks.
As we do every week, we're taking a look at our favorite statistics from the game.
The Best Offense Really Is A Good Defense
The Bears once again scored fewer than 20 points on Sunday, beating the Vikings 16-6.
According to NFL Research, the Bears are now 5-1 when they score fewer than 20 points in the last two seasons. The rest of the NFL is not as good in those situations, going a collective 28-186 in those contests.
Kirk Cousins May Need An Ice Bath
The Bears were chasing Kirk Cousins around the field the entire game, sacking him six times and forcing the Vikings to lose 51 total yards on those plays.
According to Pro Football Reference, this is just the third time since 1992 that the Bears have had at least six sacks and more than 50 yards lost on those sacks in a single game.
The Big Stage Doesn't Agree With Cousins
Cousins has had some serious struggles against the Bears, but they aren't the only winning team he has a tough time beating. According to Bear Report's Aaron Leming, Cousins is now 5-27 in his NFL career when he plays against a team with a winning record.
Khalil Mack Attack
We're running out of superlatives to describe Khalil Mack, and we're going to have to dip into the thesaurus again on Sunday as he registered a sack and a half and a forced fumble in the contest.
Mack has 53 sacks since the 2015 season, the second-most of any player in the NFL, according to the Bears' PR department. He has now forced 10 fumbles since he joined the Bears last season, the most of any player in that span.
Trubisky Hits a Milestone
Before he was forced from Sunday's game, Trubisky eclipsed the 6,000 passing yards plateau in his 30th career game.
According to the Bears' PR department, Trubisky is the third-fastest quarterback in Bears history to hit that mark, tying Billy Wade for that distinction. Jay Cutler is the current record holder, throwing for 6,000 yards in his first 27 Bears games.