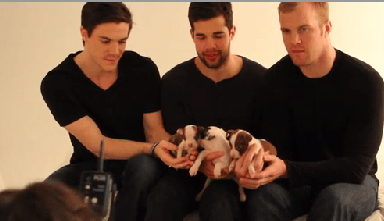 Professional athletes are in a unique position because of their celebrity to advocate for various causes, and members of the Chicago Blackhawks organization are no exception.
Blackhawks forward Bryan Bickell and his wife Amanda have taken that advocacy to another level with their Bryan & Amanda Bickell Foundation. Their mission is "creating awareness for Pit Bulls and working with them to assist abused children" according to their website, and they have several programs to achieve that goal.
"Bick's Pits," "Paws for Strength," and "Bullies Against Bullying" are all initiatives the Foundation uses to help out kids and dogs alike, and the foundation has gained quite a lot of supporters in the Chicago community.
Some of the biggest supporters of the cause are Bickell's teammates on the Blackhawks, and guys like Andrew Shaw, Corey Crawford, and Jonathan Toews joined Bickell in creating a calendar to benefit the foundation. Here is a behind the scenes video (WARNING: this cuteness may cause squealing that isn't work-appropriate):
Duncan Keith, Patrick Sharp, and Ben Smith also appear in the calendar, which you can purchase for $25 through the website doggyloot.com. You can also get involved with the Foundation's work by visiting www.bickellfoundation.org.