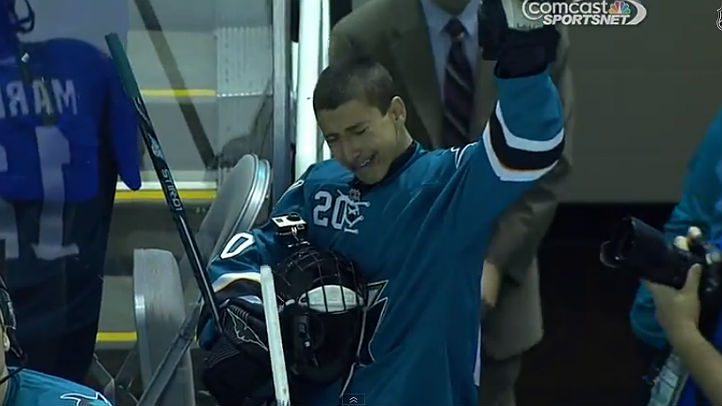 Professional sports teams are in a unique position in our culture to really do some serious good in the communities in which they play. NHL teams are no exception to this, and on Tuesday, the San Jose Sharks upped the ante a bit to help the Make-A-Wish Foundation make a Sharks fan's dreams come true.
Sam Tageson, who has suffered from a heart condition since he was born, was signed to a 1-day contract by the Sharks. He got to watch the warm-ups from the bench area and then got to skate out with the team during pregame introductions.
Here is a video of Tageson's day with the Sharks:
The raw emotion Tageson displayed while being honored during the game on the Jumbotron is really heartwarming, and apparently the team got a big lift from it too, because they scored after the very next face-off following the tribute.
The Sharks aren't the only team that has worked with Make-A-Wish Foundation recently. The Chicago Blackhawks welcomed Nicholas Skretkowski to Soldier Field in late February for the team's practice before their Stadium Series game against the Pittsburgh Penguins. Skretkowski got to skate on the ice with team captain Jonathan Toews, had his own locker stall in the team's dressing room, got a personalized jersey, and even got another jersey autographed by the entire squad.
Here is a video of Nicholas' incredible day with the Blackhawks: