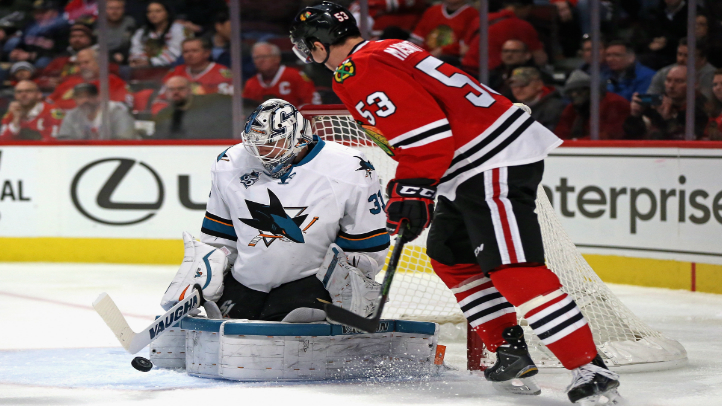 For the second time in three games, the Chicago Blackhawks had a goal disallowed because of goaltender interference, with Brandon Mashinter's first period tally against the San Jose Sharks getting waved off on Tuesday night.
The goal, which would have given the Blackhawks a 1-0 lead in the game, was waved off after Dennis Rasmussen made contact with San Jose goaltender Martin Jones. The goal originally counted, but was disallowed after review.
Here is video of the goal in question:
Blackhawks head coach Joel Quenneville was incensed by the decision, and stormed out of his postgame press conference after only one question following the contest.
Plenty of fans shared Quenneville's disgust with the decision, but are they right to feel that way?
Here is the NHL's explanation of the decision:
"According to Rule 78.7, "The standard for overturning the call in the event of a 'GOAL' call on the ice is that the Referee, after reviewing any and all available replays and consulting with the Toronto Video Room, determines that the goal should have been disallowed due to 'Interference on the Goalkeeper,' as described in Rules 69.1 and 69.3."
That summation seems pretty cut and dried, but there is a qualification that likely caused Quenneville's consternation after the game. Rule 69.1 also serves to protect a player from being called for goaltender interference if they are shoved into the crease:
"If an attacking player has been pushed, shoved, or fouled by a defending player so as to cause him to come into contact with the goalkeeper, such contact will not be deemed contact initiated by the attacking player for purposes of this rule, provided the attacking player has made a reasonable effort to avoid such contact."
While it appears that Rasmussen was pushed into Jones' crease by Logan Couture, there is some room for doubt as to whether he made an effort to stay away from the goaltender, meaning that the officials likely decided to side with protecting the goaltender.
That being said, Rasmussen was set up outside of the blue paint, giving Jones free reign in his crease as he was supposed to. That needs to be taken into account by officials reviewing the calls, and just like in Marian Hossa's case on Thursday, it doesn't appear that it was.
What do you think, Hawks fans? Should the goal have remained on the board, or did NHL officials make the right call?