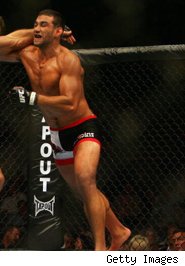 Chicago Blackhawks forward Artemi Panarin is known more for his ability to score goals than to throw haymakers, but he managed to do both on Wednesday night in the Hawks' win over the St. Louis Blues.
Panarin, who had never been involved in a fight in his NHL career, threw down the gloves for the first time on Wednesday as he squared off with Blues forward Scottie Upshall in a good old-fashioned donnybrook at center ice:
While Panarin certainly looked like he came out on top in the fight, the more important thing for the Blackhawks is that he led them to a victory in the game.
Panarin scored the game-winning goal in overtime, and he also assisted on Marian Hossa's first period goal to give him the first "Gordie Howe hat trick" (a goal, assist, and fight in the same game) of his career.