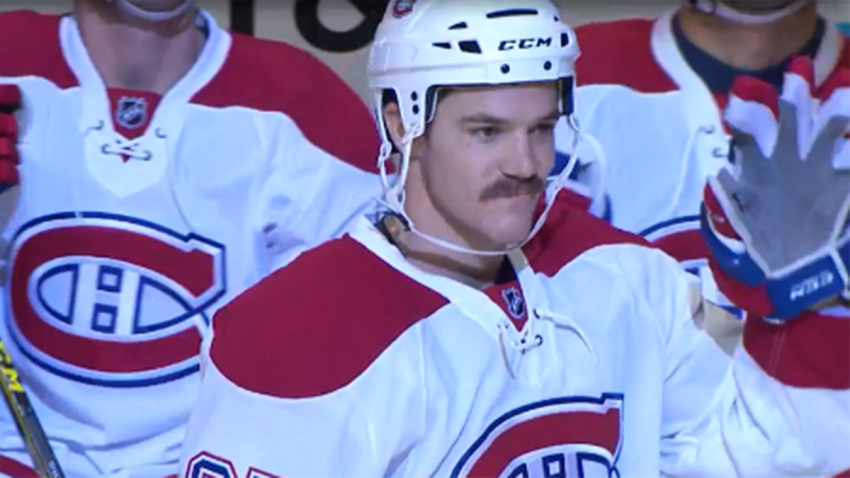 After the 2015-16 season, the Chicago Blackhawks said goodbye to Andrew Shaw as they traded him to the Montreal Canadiens, and on Sunday night the two-time Stanley Cup champion made his return trip to the United Center in an opposing jersey for the first time.
The winger got a standing ovation from the Hawks crowd, and the team played a lengthy highlight film on the video board at center ice as they commemorated his accomplishments with the franchise:
Drafted by the Blackhawks in the fifth round of the 2011 NHL Entry Draft, Shaw came into the NHL in early 2012 and immediately began to make a huge impact for the squad. He played a huge role in the team's 2013 Stanley Cup championship, and he provided one of the indelible images of that Cup run as he was struck in the face with a puck in Game 6 against the Boston Bruins and got to hoist the championship trophy as blood oozed from a stitched up wound.
Shaw's rough-and-tumble approach to hockey earned him the adoration of Hawks fans, and after the reception he received, he tweeted out his thanks to the fans and the organization:
Shaw was traded to the Canadiens at the NHL Draft in June, with the Blackhawks getting a pair of second round draft picks in exchange. Shaw then signed a six-year deal with the Canadiens that will pay him nearly $4 million per season.