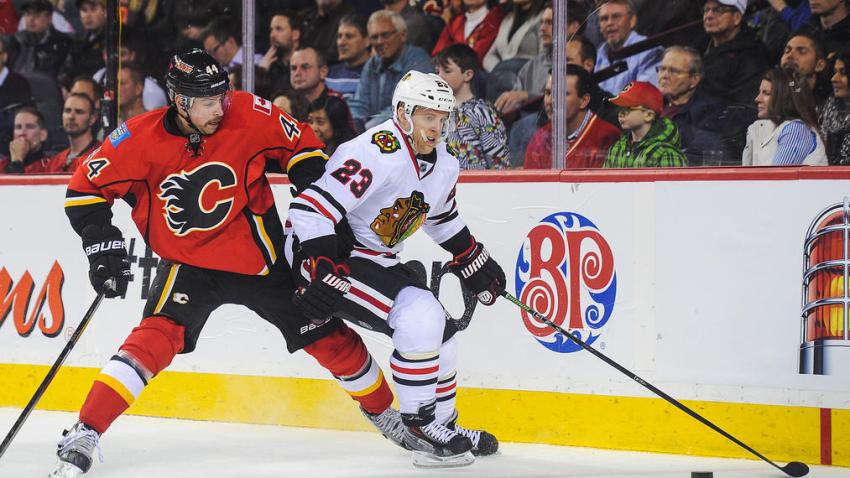 The Chicago Blackhawks are just getting ready to start their season, but they are already fighting a losing battle against the injury bug before they even hit the ice for the first time.
That's because forward Kris Versteeg and defenseman Michal Rozsival could both miss the season-opener Thursday against the Dallas Stars. Versteeg suffered an injury to his leg on Tuesday during practice, and head coach Joel Quenneville didn't sound optimistic when he was asked about it afterwards:
Kris Versteeg (lower body) could miss #Blackhawks opener. "Didn't look good," Q said. — Mark Lazerus (@MarkLazerus) October 7, 2014
Fortunately for the Hawks, Quenneville did say that the injury isn't related to the offseason knee surgery that Versteeg underwent.
As for Rozsival, he suffered an upper-body injury during the preseason, and although there was some speculation that he could be placed on Long Term Injured Reserve to help save the team some salary cap space, it doesn't appear that he will be out for more than a week at most. Quenneville also said that Rozsival will likely get back on the ice for some work either Wednesday or Thursday.
These injuries do throw a bit of a wrench into the Hawks' plans for their lineup, but with two extra defensemen and an extra forward, the Hawks do have some flexibility. Daniel Carcillo will likely be in the lineup on opening night, and it wouldn't be surprising to see him skate with Ben Smith and Marcus Kruger on the fourth line. Meanwhile, Jeremy Morin will probably slide into Versteeg's spot on the third line with Bryan Bickell and Brad Richards.
As for the defensive pairings, Duncan Keith and Brent Seabrook will remain together, but the other two pairings are going to be different than they were at the end of last season. Niklas Hjalmarsson has been skating with Trevor van Riemsdyk during the preseason, and Johnny Oduya has been playing with David Rundblad. Kyle Cumiskey could also see some playing time with Rozsival out, but odds are that he'll sit out the opener.