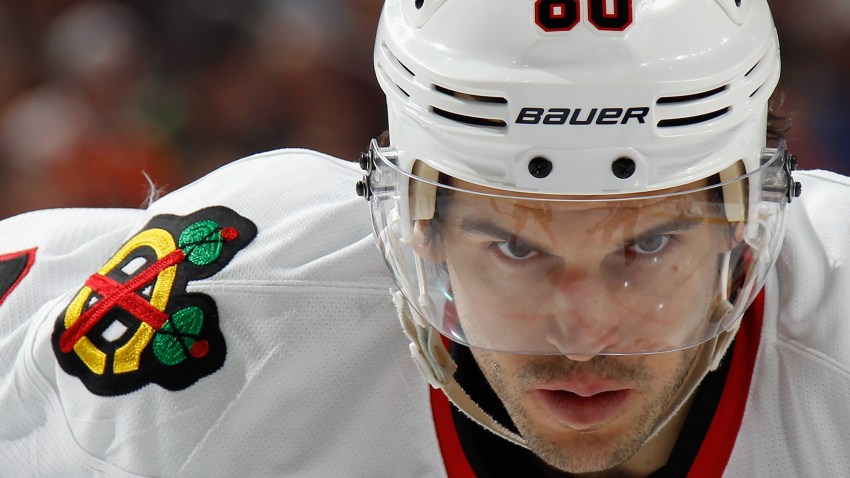 When the Chicago Blackhawks take the ice against the Nashville Predators on Wednesday night, they will be doing so without one of their key trade deadline acquisitions as it appears that Antoine Vermette will be a healthy scratch for the game.
Over the past few practices, Vermette has skated outside of the top four lines, with Jonathan Toews, Brad Richards, Andrew Shaw, and Marcus Kruger taking up center spots. Patrick Kane and Richards' respective returns to the lineup made it necessary to drop two forwards from the rotation, and it looks like Vermette will be one of those players.
While some have criticized Joel Quenneville for the decision to bench Vermette, whom the Blackhawks acquired for a first round draft pick and defenseman Klas Dahlbeck, Blackhawks G.M. Stan Bowman has a different take on Quenneville's lineup choice.
"The important thing for us is just having the depth and different options for our coaches to use," he said. "There's a lot of focus, maybe too much focus, on Game 1 and the lineups."
For those arguing that the decision is a big deal, there is plenty of ammunition to choose from. Vermette is a guy capable of winning face-offs, can play on both the power play (where he's particularly adept at creating screens and grabbing rebound chances in front of the net) and on the penalty kill, and can shift Shaw back to the wing spot, where he seems to play better hockey than when he's playing the center position.
Quenneville has shown a willingness to move pieces around early and often in the playoffs, so it wouldn't be shocking to see Vermette slot back into the lineup if things don't work out on Wednesday night. Even with that being the case, it's still a curious to see a player that was acquired for a fairly steep price tag, and for the express purpose of adding center depth and penalty killing ability, being benched in the first game of the playoffs.