An employee was shot during a robbery at a bank in Bolingbrook Monday afternoon and police are searching for the gunman.
Police responded to the First Midwest Bank, at 450 N. Bolingbrook Rd., in the southwest suburb at about 12 p.m., FBI spokeswoman Joan Hyde said.
"It was a lone robber," Hyde said. "No one is in custody."
#bolingbrook#portillos on lockdown bc of bank robbery. Whoa!

— Kirsten (@kcar518) August 11, 2014
stuck in portillos because the bank next door is getting robbed #bolingbrook

— Riley Applegate (@rileyapplegate) August 11, 2014
Police said a teller in her early twenties was shot in the arm during the robbery. She was taken to an area hospital in good condition, officials said.
Dramatic Footage: Shooting During Bud Billiken Parade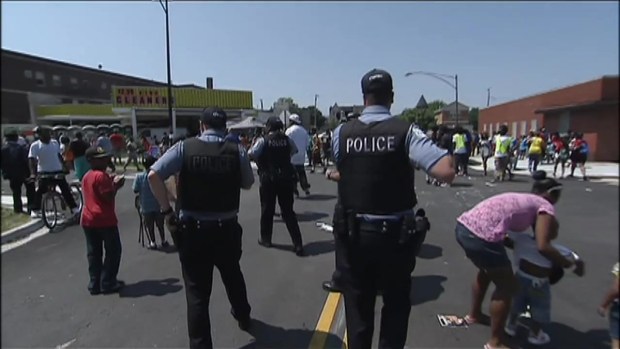 The robber was described as a black man in his twenties, between 5-foot-8 and 6-feet tall with a thin build. He was wearing a Chicago Bulls hat and white bandana, officials said.
Witnesses said the scene was chaotic.
"You see ten cop cars, you see them pulling out their rifles not their guns, just hearing them screaming and even over all the traffic," said witness Nicole Gonzalez. "You see them running around their cop cars you see them running with their guns, and even the ones that went in they had their shields out."
Another witness who was at the drive through during the robbery said they saw someone "jump the counter" during the incident.
Fatima Husain and her mother were in the safe deposit area in the lower level of the bank and on their way up noticed something was wrong.
"A customer, she was on her knees and it seemed like someone was commanding her to do something," she said.
A Portillo's restaurant across the street was locked down for about an hour, an employee of the store said. No one was allowed to leave or enter the store.

This is a developing story.