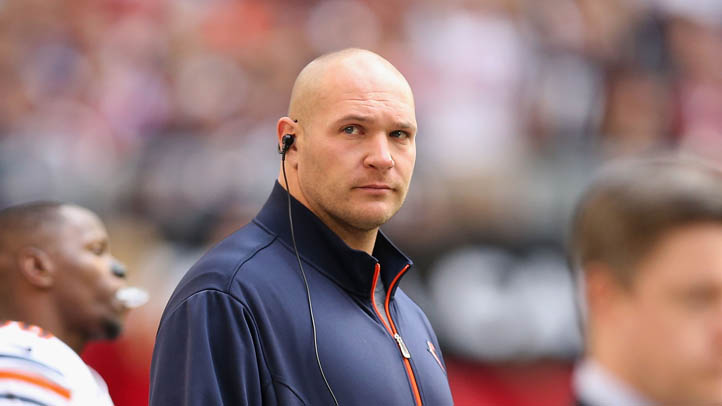 Former Bears linebacker Brian Urlacher has left the game of football.
Let the sappy retrospectives re-commence.
The drawn out process that led to his retirement was fraught with tension, misplaced pride and for the Bears, simple logic. Urlacher wasn't a star-caliber athlete.
The team moved on. Urlacher couldn't find a new home. On Wednesday, it ended.
Let's hope the end isn't what we remember about Urlacher.
Because the divorce between the 34-year-old linebacker, coming off of a knee injury, and the team wasn't pretty.
Fans had to contemplate the idea of seeing their favorite Bear playing in Minnesota, Dallas or Denver. They had to imagine Urlacher lining up against Jay Cutler, and Matt Forte and Brandon Marshall. Thankfully for the fans, no team signed him.
He was out of options.
Retiring was the only play for the former defensive signal caller.
"After spending a lot of time this spring thinking about my NFL future, I have made a decision to retire," Urlacher said in a statement. "Although I could continue playing, I'm not sure I would bring a level of performance or passion that's up to my standards. When considering this, along with the fact I could retire after a 13-year career wearing only one jersey for a storied franchise, my decision became pretty clear."
It wasn't a great end to a great career, but it's not the ending we will remember. When you think of Michael Jordan's career, do you think about the stop with the Washington Wizards? Can you even remember what Johnny Unitas looked like in a San Diego uniform? Even the greatest careers end badly.
Copyright FREEL - NBC Local Media