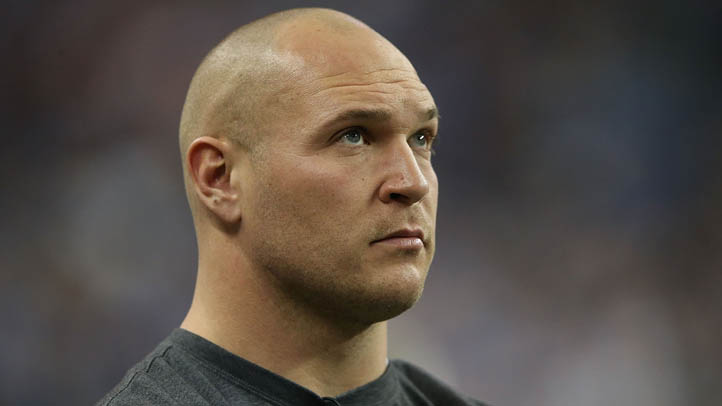 It's been a while since Brian Urlacher made waves with comments about the Chicago Bears, but on Fox Football Daily on Tuesday night, he weighed in on the team's quarterback situation.
Going against everyone involved with the organization, Urlacher thinks that Josh McCown, not Jay Cutler, should be the team's quarterback moving forward.
"In my opinion, he should be the guy, even if Jay Cutler is healthy," he said. "You can't take a guy who's this hot out of the football game. If I was on this team, I would have a hard time with them taking him out."
Public comments aren't always the greatest measure for the temperature in a locker room, but despite that caveat, it seems like most guys in the Bears' room are still emphatically behind Cutler. Wide receiver Brandon Marshall told ESPN after Monday's victory over the Dallas Cowboys that "Jay's our guy," and also added that he thinks Cutler was really rounding a corner in his career with his play before the injury.
"Jay was playing his best ball ever, and what we're learning as players is that it isn't about the individuals," he said. "It's about us playing together."
Even McCown himself has said that he is still totally behind the idea of Cutler as the starter.
"I understand that Jay's the starter, and he does too, and our team does and we're building this thing around him," he said in a radio interview Tuesday. "More importantly, for everybody, it's not just Josh and Jay, let's just be the Bears and for the Bears playing good football and winning football and that's the thing that matters the most no matter who's in at the quarterback. That's all I care about."
Despite the protestations of Urlacher and others, there is absolutely no way that Marc Trestman is going to make the decision to stick with McCown, and he's absolutely right in staying the course. McCown has been playing out of his mind, but if the Bears can somehow get into the playoffs, they are going to need a guy who not only can make the short quick throws that the team has implemented into their game, but also a guy who can throw the ball deep down the field and stretch out defenses.
McCown can't do that, but Cutler can. Marshall perhaps said it best when he said that "there's things he can do that other quarterbacks can't." Regardless of what Urlacher or other pundits have to say about the situation, the "battle" between McCown and Cutler boils down to that one fact alone. McCown may have proven that he can be a great steward of the offense, but Cutler can do that and more, and that's why he will remain the starter when he's healthy.