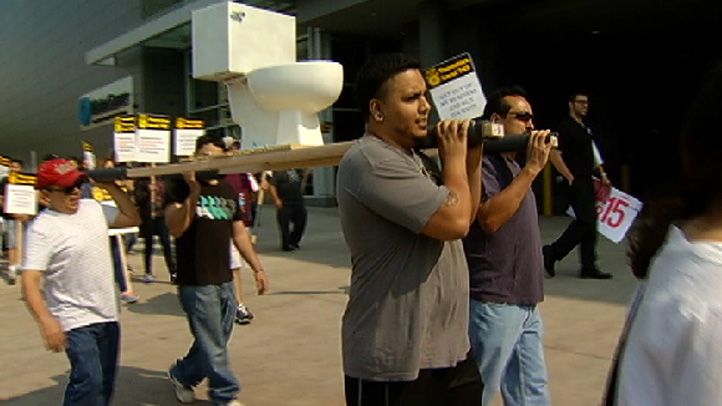 Union workers at a Chicago faucet manufacturer demonstrated Monday against their employers enforcement of timed bathroom breaks.
Teamsters Local 743 claims WaterSaver Faucet Co. recently implemented a policy that tracks and records employees' bathroom usage as well as interrogates employees when they have to go.
The workers say they are limited to six minutes of bathroom time a day or risk facing discipline. But company officials say the union agreed to the bathroom policy and is using it as a publicity stunt.
Union representatives claim the new policy was put into place four days after Local 743 asked the company for $15 an hour, as well as paid sick days per Chicago's ordinance, insurance co-pay deductions and a progressive disciplinary policy.
The union filed Unfair Labor Practice charges with the State of Illinois Labor Relations Board after it said a spokesman told the union the bathroom policy was not up for bargaining. The union claims some of the workers are being disciplined for what the company calls excessive bathroom usage.
"The company has recently implemented a ridiculous bathroom policy that's solely intended for Union workers and infringes on workers privacy rights," the union said in a statement.