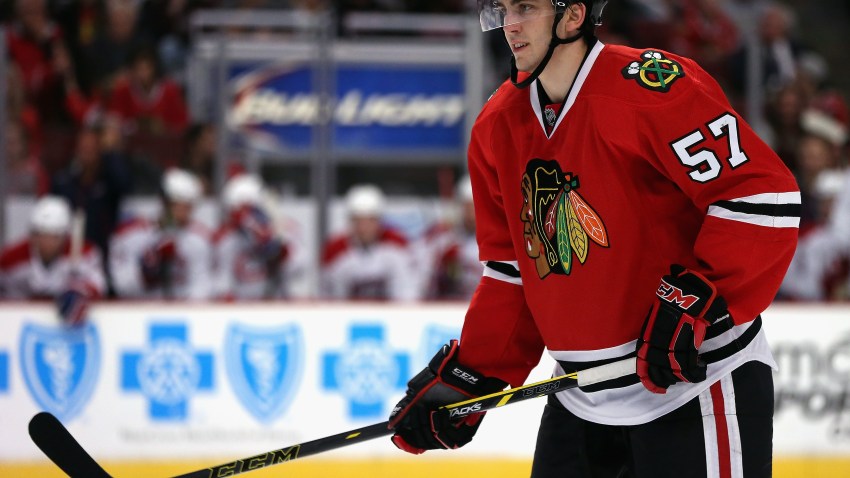 With an opportunity to dictate line matchups and find favorable times to get his four main defensive starters some key rest, Chicago Blackhawks head coach Joel Quenneville appears to be inserting defenseman Trevor van Riemsdyk back into the lineup for the first time since November.
"I thought he came out into the team out of the blue, outstanding at the beginning of the season for us," Quenneville said at his press conference following the Blackhawks' Monday morning skate at the United Center. "I think he adds another dimension to our back end. He's got a real good patience level with the puck."
The rookie defenseman was limited to just 18 games during the regular season before a fractured kneecap sidelined him back in November. He was efforting toward a comeback in a rehab stint with the Rockford IceHogs earlier this spring when he injured his wrist. He has been skating with the team for the last few weeks, but until now Quenneville has not put him in the lineup.
"I've been doing all that I can to get ready and just be mentally prepared for this," van Riemsdyk said after practice. "Obviously, there's a lot of experience in this room that can help you get ready. It's been a fun experience to be part of it this time and not just watching on TV."
Even with the rust of not having played an NHL game in seven months, Quenneville is confident that the rookie has what it takes to jump back in and make an impact immediately for the Blackhawks.
"He is very patient," he said. "[I've] got a lot of confidence in his game. He has good play recognition. [The] minutes that he's going to be coming in and replacing are minimal."
In all likelihood, it will be David Rundblad that van Riemsdyk will replace in the lineup for the Blackhawks. The team has mixed and matched defensive pairings throughout the postseason, and they've been forced to continually adapt as Michal Rozsival sustained a fractured ankle during the team's second round victory over the Minnesota Wild.