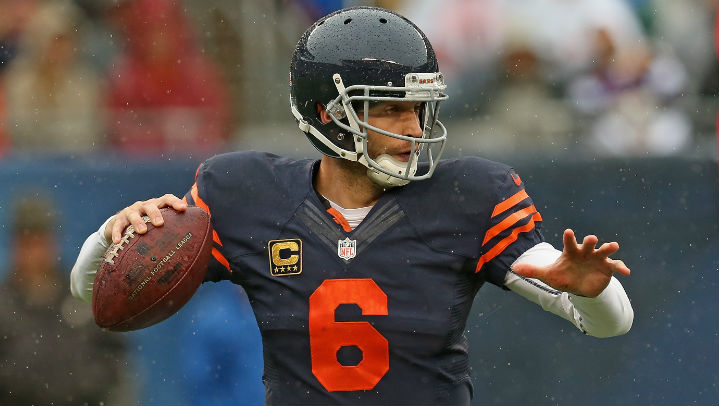 As the Chicago Bears' training camp in Bourbonnais approaches, there are plenty of people in the organization with plenty to do in order to get ready for the season. The team obviously won't be as transparent with their "To-Do Lists" as we'd like them to be, so instead of trying our hand at safe-cracking, we came up with our own lists.
We start out today with the list that Jay Cutler will be working on when camp opens later this month.
Mentor the New Guys
The Bears will have a slew of new players on defense, but even though the offense is largely intact from last season, there are still players that Cutler is going to need to work with.
First and foremost on that list is David Fales, who was drafted by the team in May's NFL Draft. Cutler has plenty on his plate as he continues to become more versed in Marc Trestman's offense, but working with Fales as he learns the playbook and gets up to speed with the NFL game is an absolute must for a veteran leader on the team.
Cutler will also need to work with Marquess Wilson as he competes for the third-string wide receiver spot. With Brandon Marshall and Alshon Jeffery already locked into the top two spots, Wilson will need to make sure to do the little things like downfield blocking and running proper routes through the slot, and Cutler will be instrumental in making sure that he's on the right track.
Develop More Chemistry with Alshon Jeffery
Despite the fact that Cutler favored Marshall in terms of targets by a slight margin of 101-91 over Jeffery, the fact remains that he had several games in which he focused on Marshall to a huge margin. Jeffery only out-targeted Marshall twice with Cutler under center (against the New Orleans Saints and in the team's second game against the Detroit Lions), while Marshall was targeted more in six out of the 10 (nearly) full games that Cutler played.
With that in mind, Cutler needs to make sure to continue getting Jeffery involved in the offense. Matt Forte and Martellus Bennett will both get a big number of touches too, but with his skillset and ability to take some of the pressure off of Marshall, Jeffery needs to be a more frequent option for Cutler when the season begins.
Continue Progress in Minimizing Turnovers
While Cutler had two fewer interceptions in 2013 than he did in the previous season, those numbers came in a season where he had nearly 80 fewer attempted passes. Granted, he did toss as many touchdowns (19) as he did in the previous season despite the lower attempt total, but he still has a tendency not to take care of the ball like he should.
Of course, asking Cutler to change his stripes now at this stage in his career is borderline silly. He's always going to throw interceptions because of the "gun-slinger" attitude he brings onto the field with him, but if he can continue to take some of the lessons that Trestman has tried to impart onto him as they've installed the Bears' new offense, then he should minimize his turnover totals.