This is the most obvious training camp issues that we've been debating since about July.
The Hawks have a hole behind Jonathan Toews and in front of Dave Bolland. They don't want to move Bolland from his checking role on the third line, because he's one of the league's best there. Also, the offense he gives you from the third spot would be considered a bonus, whereas as the second scoring line it would only be ok. Luckily, unlike the defensive questions, this one probably only has two answers.
The first option, and the one they're going to try everything to cram down our throats, is putting Marcus Kruger there. Let's be honest about what we're talking about here: the Hawks are looking for a center for Marian Hossa. What does that entail? Left-handed helps, because it's the easier pass to the right wing, where Hossa lives.
It also needs to be someone who sees the ice well, so that they know where Hossa is and will be and when he needs the puck. Thirdly, it's someone who likes to pass first, because Hossa is supposed to be the scorer. The first guy to fill all of these is Jonathan Toews, on whose wing Hossa has put up a few dominant stretches. Toews isn't pass-first, but he he's a lefty who does see the ice well and has the added trait of opening up space by being a hellish forechecker. However, that doesn't seem likely this year so the next guy on the train in Kruger.
The Hawks love him, and though he didn't show much in his brief stint last season he did at least exhibit a pretty high hockey IQ. But Kruger is a southpaw, and is pass-first. He wants to make plays. Is he big or strong enough to not get horsed around the rink? We don't know. Does he have the hands to make plays quick enough in the NHL? We don't know. Can he win enough faceoffs to get more ice-time? We don't know. But Kruger is going to get every chance to prove all of this in September. Look for him to be instantly paired with Hossa from jump street and every preseason game the two of them play in. The fact that Kruger is not going to this weekend's prospects tourney in Ontario and Jeremy Morin is tells you what you need to know about that depth chart.
Should that not work out and Kruger has to at least start the year in Rockford, the other option is to put Patrick Sharp at center. The buzz is that he doesn't like it there as much as the wing, where he and fellow Good Time Boy Patrick Kane combine to make sure Sharp Shooter scores lots of goals. But the Hawks won a Cup with Toews-Sharp-Bolland down the middle, and everyone should remember that. Plus, this would allow Hossa to play with Toews and Kane to play with Sharp, the two combos that have the most chemistry. Then it's just a matter of which left wing Andrew Brunette and Bryan Bickell and others end up. However, this scenario only comes about if Kruger plays himself out of this task.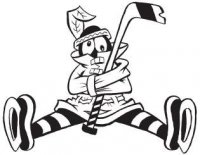 Sam Fels is the proprietor of The Committed Indian, an unofficial program for the Blackhawks. You may have seen him hocking the magazine outside the United Center at Gate 3. The program is also available for purchase online. Fels is a lifelong 'Hawks fan and he also writes for Second City Hockey .