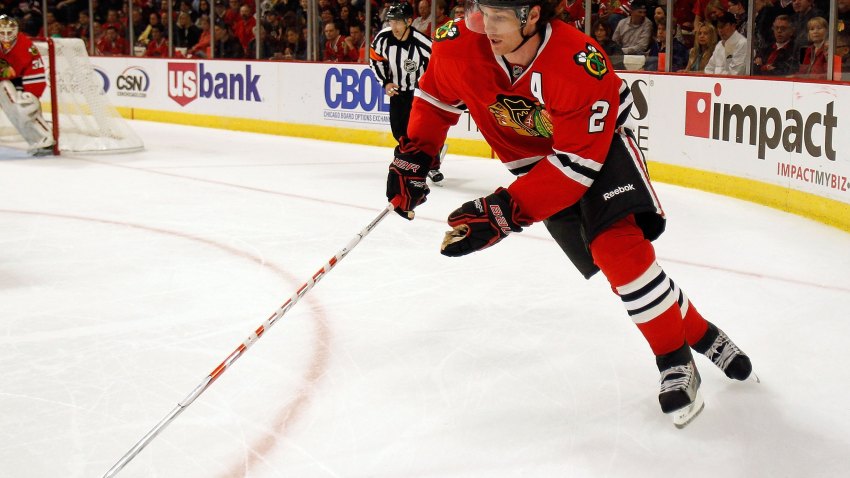 This question might not get an actual answer until the season begins, but it can certainly be asked of Coach Joel Quenneville when camp opens next week.

At least early in this season, will the coaching staff try and keep their stars' minutes down to keep them fresh for the whole year?
You already know the ugly story of last year. Due to "Cap-acolypse," the bottom of the roster was gutted and filled with players it took Quenneville ages to trust, if he ever did at all. And most of the time, they weren't worthy of it anyway. So Q rode the players he did trust, Jonathan Toews, Patrick Kane, Brent Seabrook, Duncan Keith, Marian Hossa and Patrick Sharp, until they were skating on their tongues. And this was in October.

All of this came after they had all played more hockey in one season than they ever had, combined with as short of a summer as they'd ever seen (don't forget about the Olympics in there as well).
You know the results.

The Hawks were simply dreadful in the third period last season. They coughed up more leads than Carrie. Their offense, which was fourth overall in the league, was only 17th in terms of 3rd period scoring. Their defense? A cataclysm of the stupid and absurd. Fourth-worst, and a goal difference of -15.

You can't help but think this is a matter of fatigue.
Well, the roster is deeper now. Instead of just one defenseman who the staff can count on -- and he's the now departed Brian Campbell, a rested Keith and Seabrook, as well as the recently acquired Steve Montador and Sean O'Donnell (and maybe Sami Lepisto), as well as a hopefully rebounding Niklas Hjalmarsson, should give the Hawks three pairings they can just roll over and play in any situation.
With the additions of a full season of Michael Frolik, Andrew Brunette, and some tinkering on the 4th line -- as well as the expected development of a couple kids -- Q shouldn't hesitate to roll four lines, at least for the first 40-50 minutes of each game.
So will Q throttle back some in the early part of the year to keep the most important fresh for when the games really matter? Someone should ask, it's a major issue to be addressed this season.
-One other note. The Hawks acquired Jonathan Toews's little brother today, David. He'll participate in this weekend's prospects tourney for the Hawks. David spent last year in the Wester Hockey League, where he put up respectable numbers but nothing shocking. He'll probably just serve as Rockford depth, if that. But I'm sure both Toews brothers are smiling today.