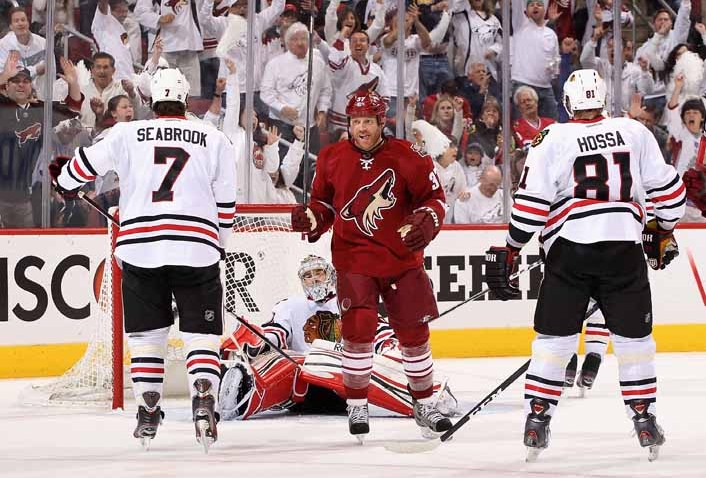 On Saturday, the NHL announced Phoenix Coyotes winger Raffi Torres will be suspended 25 games for his hit that knocked out Chicago Blackhawk Marian Hossa.

"This is a violation of three NHL rules – interference, charging and illegal check to the head," said NHL Senior Vice President of Player Safety and Hockey Operations Brendan Shanahan.

The suspension will be carried over into the following season should the Coyote's run in the playoffs end before Torres hits game 25, according to the NHL website.

Torres left his feet to hit an unsuspecting Hossa during Game 3 on Tuesday night, sending the Blackhawks winger smashing to the ice. Hossa was taken off on a stretcher and it was announced he will miss his second game Saturday night as a result of his injuries.

This is the third time Torres has been suspended by the NHL for a questionable hit in the last 13 months.

The NHL has also created a video on their website detailing the reasons for their ruling.

Shanahan also posted the following statements on the NHL website:
In addition to the fact that three separate NHL rules were violated with this one hit, two other factors were critical in determining the appropriate length of suspension:

First, this violent and dangerous hit caused a severe injury.

Second, Torres not only is a repeat offender as defined by the CBA, his extensive Supplemental Discipline history consists mainly of acts very similar to this one – including two this season.

Despite knowing that Hossa no longer has the puck, Torres decides to finish his check past the amount of time when Hossa is eligible to be body checked. That is a violation of the Interference rule.

While we acknowledge the circumstances of certain hits may cause a player's skates to come off the ice, on this hit, Torres launches himself into the air before making contact. This is a violation of the Charging rule.

The position of Hossa's head does not change just prior to or simultaneous with this hit. The onus, therefore, is on Torres not to make it the principal point of contact. By leaping, Torres makes Hossa's head the principal point of contact. That is a violation of the Illegal Check to the Head rule.


The news comes hours before the Coyotes are scheduled to face off with the Hawks in Game Five of their first-round series.