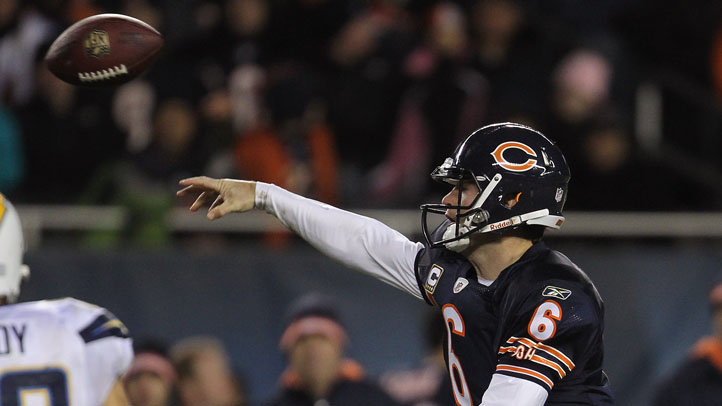 For some reason, Jay Cutler still has a spotty reputation in the NFL.

Though he has shown maturity in leading the Bears last season and dealing with a thumb injury, I still hear talk of interceptions and inconsistency about the Bears quarterback.

Greg Cosell, one of the minds behind NFL films and a man who can break down film better than anyone in the business, wrote to clear up misconceptions about Cutler. To him, Cutler is one of the NFL's Top 10 quarterbacks.

Cosell blamed many of people's ideas about Cutler on his first year in Chicago. In that season, he threw a career-high 26 interceptions. Many of them were on national television and in the red-zone. In 2009, Cutler made the mistake of not just throwing picks, but throwing them when the world was watching.

Because of his bad timing in 2009, attitudes about Cutler have carried over, but read what Cosell had to say.
Let's drill down a little deeper, separate reality from perception and evaluate Cutler after five full seasons as an NFL starter — focusing solely on the measurables of his play and not subjective observations like body language or press conference demeanor. Cutler is one of the best pure throwers in the NFL. His elite arm strength gives an offense every dimension in the pass game. He throws the deep digs (about 20-22 yards between the numbers) as well as any quarterback in the game. He has deceptive movement skills, with the ability to make throws down the field on the run. There's little hesitation to his game; he intuitively turns it loose.

Hear that, Bears fans? Chicago has a great pure passer. He has arm strength, and now has the receivers to catch what he can throw. This is not something the Bears have had for years. Cutler's best season by yardage was in 2008, when he threw for 4,536. The most a quarterback wearing a Bears uniform has ever thrown was 3,838 by Erik Kramer.

Next time you hear Cutler complaints, you have ammunition to shoot down any poor arguments.
Copyright FREEL - NBC Local Media