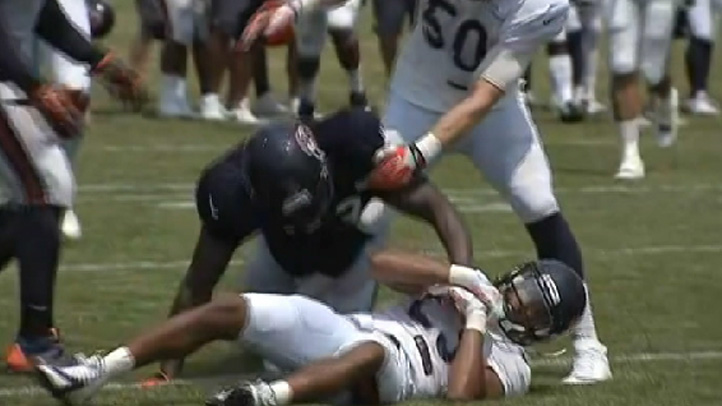 The Chicago Bears have a much-needed day off on Thursday as they prepare to play their first game of the preseason Friday night against the Philadelphia Eagles at Soldier Field. There have been plenty of storylines to keep track of while the team has been preparing in Bourbonnais for the beginning of the season, so before we get to previewing Friday's game, we'll recap what's been going on at Olivet Nazarene University with our Top Five Stories from camp so far.
Five: Safety Situation Ever-Evolving
With Major Wright in Tampa Bay and Chris Conte's bucket hat remaining firmly affixed to his head, the Bears have two open safety positions as they progress through training camp, and a few players have emerged as contenders to grab the jobs.
Adrian Wilson, the long-time veteran who missed the 2013 season with heel surgery, looks to be in line to grab one of those gigs with his performance so far in camp. He has looked really good both with rookie Brock Vereen and new acquisition Ryan Mundy, and with Marc Trestman's insistence that the team feels the free and strong spots are interchangeable, one could imagine that any combination of those three is possible on opening day against Buffalo.
Four: Back-Up Quarterback Battle Heats Up
Jordan Palmer is being given the first shot at back-up duties this season, but Jimmy Clausen has been looking really solid throughout camp. His throws are crisp, he's moving around the pocket well, and he's clearly developed more command over the playbook since he was signed by the team. He ended up working with Jay Cutler over a weekend recently to get some of the terminology down as well, so he's really forcing the issue in Trestman's mind over whom to choose.
Three: Third Wide Receiver Slot Up in the Air
When Marquess Wilson was injured during Monday's practice in Bourbonnais, the question over who would be the team's third wide receiver went from being mostly answered to one that is truly vague. Eric Weems has been getting plenty of reps with the first teamers this week, but Chris Williams and Josh Morgan both have legitimate shots at the position as well.
The team has worked out several other receivers, including Santonio Holmes, but it appears they will stick with an in-house solution after they brought in 2013 undrafted free agent Greg Herd instead of a more established veteran.
Two: Injuries Abound as Camp Wears On
The Wilson injury got plenty of publicity because of the impact it had on the receiving corps, but there are plenty of other ailments that could spell trouble for the Bears down the road. Right guard Kyle Long missed several practices at the beginning of camp with a viral infection, and he sat out Wednesday's practice with a sore ankle. Fellow linemate Jordan Mills also missed the practice with a sore foot, and Eben Britton has been missing for over a week with an injured hamstring.
On the defensive side of the ball, health is still a concern for a few players, with Conte and Craig Steltz still out with injuries, but the biggest involves cornerback Tim Jennings, who has been in and out of practice with a quad injury. Kyle Fuller has stepped up well in his absence, but having Kelvin Hayden as the nickel corner is a bit of a downgrade over the Pro Bowl-caliber Jennings.
One: Martellus Bennett Gets the Boot
The biggest story in camp so far has unquestionably been Martellus Bennett's suspension after an altercation with Fuller on Monday. The team suspended him indefinitely, but after Trestman had a "positive conversation" with him on Wednesday, it appears that he will be back with the team sooner rather than later.
Bennett is a key component to the Bears' offense in more ways than one, as the tight end is both a pass catching threat and a critical extra blocker, especially with Britton on the shelf. Keeping him on the field and keeping everyone on the team at peace is crucial as the team prepares for the season.