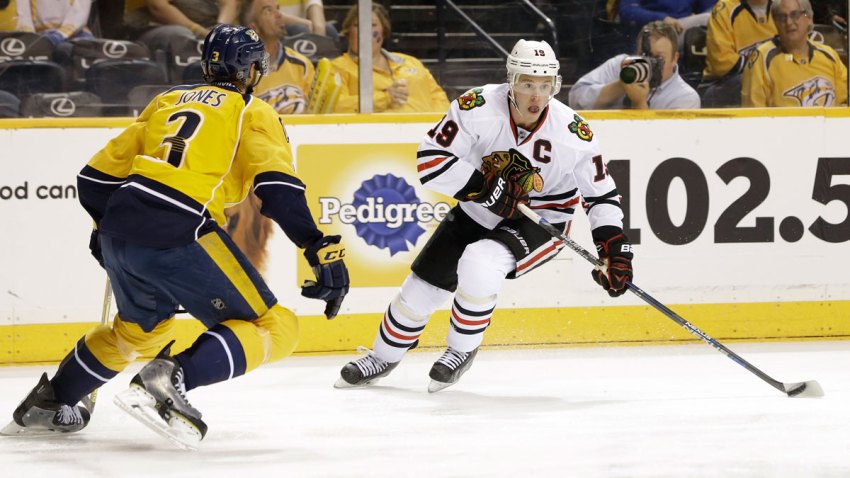 The Chicago Blackhawks finished off the first round of the Stanley Cup Playoffs in style on Saturday night, storming back from a 3-1 deficit and winning the game 4-3 on Duncan Keith's late third period goal.
Now that the game action and handshake line are a thing of the past, we have a very simple question that needs to be asked: who was the MVP for the Blackhawks in the first round series?
Duncan Keith
Playing an average of 32:03 of ice time per game in the six game series, Keith was a rock star for the Blackhawks against the Predators. His defense was solid for the most part even with a mistake-prone Michal Rozsival frequently skating alongside him. His offense was spectacular as well, as he scored twice and dished out five assists to tie for second on the team in scoring in the series.
Brent Seabrook
In addition to his triple overtime goal in Game 4 of the series, Seabrook was arguably the Blackhawks' best defensive blue liner in the series. He had to deal with a lot of Nashville's physicality and strength in their forward group, and he not only bounced up from every hit but also made some key defensive plays as the Hawks prevailed.
Jonathan Toews
The Blackhawks' captain had a bit of a dry spell in Games 4 and 5 of the series, but in the other four contests he was positively dominant. He scored two power play goals for the Blackhawks in the series, and he paced the team's offense as a whole with three goals and five assists to lead the team in both categories. He did struggle in the face-off dot at times, but for the most part Toews led the top line beautifully in the series and provided the punch that his side needed to win.
And the Winner Is…..
There is a strong case to be made for either Toews or Seabrook for MVP honors in the series, but Keith gets the narrow victory in our eyes. Simply put, the Blackhawks placed a ton of responsibility on his shoulders with how often he played in the series, and he passed every test with flying colors. The Hawks can't continue running him out there for half an hour every single night, but he thrived under the pressure in these six games.