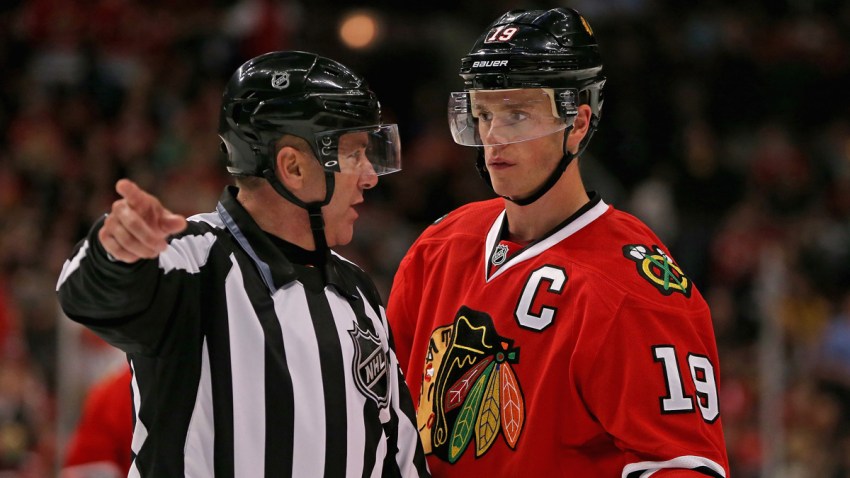 One of the recurring themes for the Chicago Blackhawks this season has been welcoming familiar faces back to the United Center, or seeing familiar faces during road games. That was the case when Dave Bolland and the Toronto Maple Leafs visited the UC in October, and the Hawks said hello to Brian Campbell, Kris Versteeg, and Tomas Kopecky when they faced the Florida Panthers as well.
On Saturday afternoon, however, there will be a homecoming of a different sort when the Hawks face the Winnipeg Jets. That's because captain Jonathan Toews will play in front of his hometown fans for the first time in his career.
Thanks to the new NHL realignment for this season, the Hawks and Jets are both now members of the Central Division, so this will be the first time since 1996 that the Hawks have played a game in Winnipeg. This is already the Jets' third season in the Great White North, but in the 2011-12 campaign, the two teams played only once, and that was in Chicago. Last season, the Jets were in the Eastern Conference, so the two clubs didn't play at all.
At any rate, the new realignment has given Toews a chance to play for a hometown audience, and while the reception is expected to be a positive one for the two-time Stanley Cup champion, Toews is just excited to be going back home.
"If anyone asks me why I wanted to be a hockey player, that's how it started was watching the Winnipeg Jets play as a young kid," Toews told CSN Chicago's Tracey Myers. "I never really thought, throughout those years there was no team in Winnipeg, that I'd get the chance to go back there. I'm definitely looking forward to it."
There are several other players who have played against their hometown teams and had some good success against them. In seven career games against the Buffalo Sabres, Patrick Kane has had three goals and three assists for the Hawks, including two power play tallies. Montreal native Corey Crawford has a 1-0-0 record in two career starts against the Canadiens, with a 1.48 GAA and a .946 save percentage in those games. Nick Leddy has a goal and four assists against the Minnesota Wild, his home state team that drafted him in the first round of the 2009 NHL Entry Draft.
On the other end of the spectrum, Brandon Bollig has zero points in 10 career games against the St. Louis Blues, but he has racked up 52 penalty minutes in those contests.