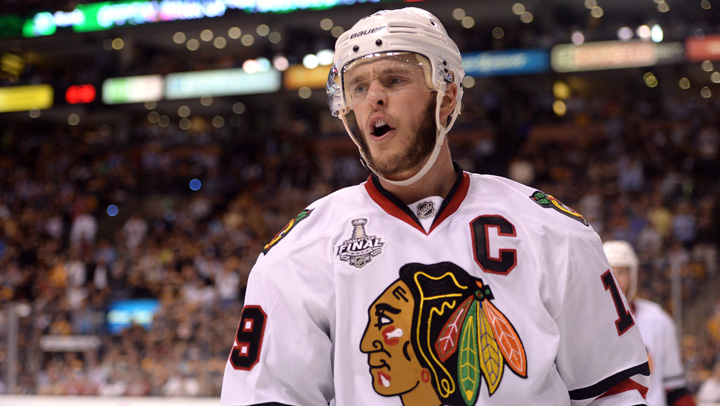 The Chicago Blackhawks and Boston Bruins battle Monday night in Game 6 of the Stanley Cup Final, but over the past few days, it's been questions about the health of their incredible two-way forwards that have stolen the headlines.
Hawks captain Jonathan Toews, who took a couple of big hits from Zdeno Chara and Johnny Boychuk in Game 5 of the series, missed the third period of that game but did travel with the team to Boston on Sunday.
Meanwhile, Bruins center Patrice Bergeron was admitted to a Chicago hospital during Game 5 after sustaining a mystery injury (which Bruins head coach Claude Julien helpfully described as a "body injury"), but did travel with the team back to Boston.
On Monday morning, the news turned mostly positive for both men. Toews practiced with the Blackhawks during their morning skate (the only Hawk that didn't was Marian Hossa, but he is fully expected to play in Game 6), and head coach Joel Quenneville had this to say after the practice:
Joel Quenneville: Toews "100 percent ready to go." — Jesse Spector (@jessespector) June 24, 2013
As for Bergeron, he did not skate in the Bruins' morning skate, but Julien said he will dress and take warmups Monday night. While far from guaranteeing that Bergeron will play, he did seem optimistic that his defensive stalwart will be on the ice as the Bruins seek to avoid elimination.
Obviously, either team losing one of these two players would be a huge loss in a big game like this, but the truth is that losing Bergeron would arguably hurt the Bruins more than the Hawks losing Toews. David Krecji, who would end up taking the majority of the faceoffs and defensive assignments, has been completely shut down by the Hawks in this series, and it would be a struggle for Boston if they had to rely on him.
As for the Hawks though, they too would have a tough time replacing Toews. Their depth up the middle isn't good, and their most likely course of action would simply be to bump either Marcus Kruger or Dave Bolland up to the top line with Bryan Bickell and Patrick Kane. There's no way that Quenneville would want to take Michal Handzus away from Hossa and Patrick Sharp, and the third line of Viktor Stalberg, Andrew Shaw, and Brandon Saad has been a great energy line for the Hawks over the past few games.
We'll have more on both stories as they continue to develop this afternoon.