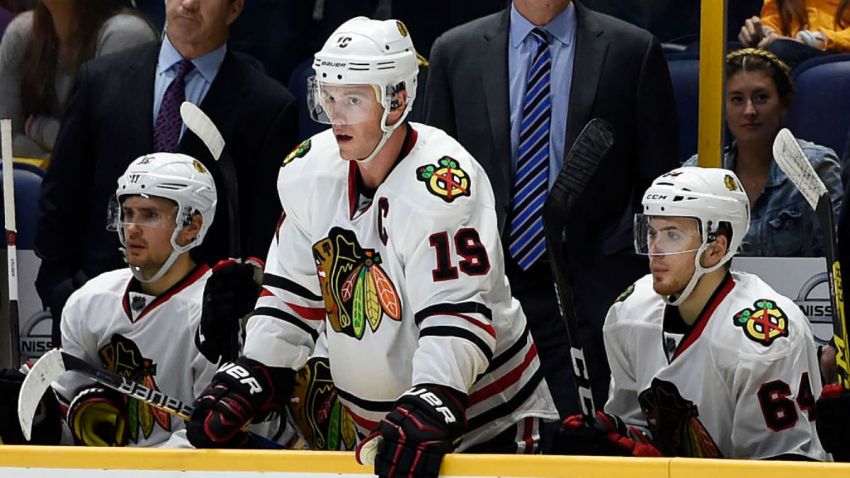 With injuries to some of their best players, life has been difficult for the Chicago Blackhawks in recent weeks, but it appears that the team is finally turning a corner on the health front as two important pieces could be back in the lineup soon.
According to the Blackhawks, both center Jonathan Toews and defenseman Brent Seabrook will accompany the team on their trip to New York this week for games against the Rangers and the Islanders, and while neither has been confirmed to be returning to the lineup immediately, the fact they are flying with the team is an excellent sign.
Toews, who has been dealing with an upper-body injury (widely reported to be a back issue), has missed the team's last nine games. He began practicing a few weeks ago but had to stop after he experienced a setback, but he rejoined the team for practices over the weekend and seems to finally be improving to the point where a return to the lineup is possible.
During Toews' absence, the Blackhawks are 5-2-2 and still remain atop the standings in the Central Division despite some pressure coming from the St. Louis Blues.
As for Seabrook, the defenseman left Tuesday's loss to the Arizona Coyotes after taking a huge hit along the boards, and he has missed the team's last two games with an injury of his own. Players like Brian Campbell and Trevor van Riemsdyk have seen an uptick in their playing time with him out of the mix, but it looks like the physical defenseman could be back in the mix soon for the Blackhawks.
The Blackhawks' next three games are all on the road, with the first two taking place in the Big Apple against the Rangers and Islanders and the last game of the trip taking place in St. Louis on Saturday night.