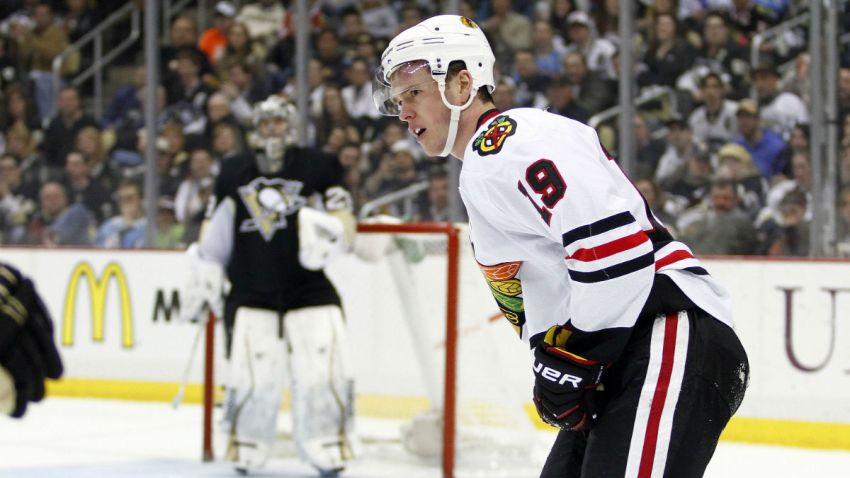 A few weeks ago, Chicago Blackhawks captain Jonathan Toews was drilled along the boards in a game by Pittsburgh Penguins defenseman Brooks Orpik. Toews ended up leaving the ice after the hit and missed the remainder of the season with an upper-body injury, but that wasn't the end of the story.
After the hit, and the Blackhawks' failure to "respond" by engaging in fights or extra hits on Orpik or Sidney Crosby, several pundits in the Windy City and nationally assailed the Hawks for being a "soft" team, and said that players from other teams would be more emboldened to take liberties against the defending champions. The argument was largely dismissed by players on the team, including noted ruffian Brandon Bollig, but Toews himself didn't weigh in on the matter.
Until today.
In an interview following the Hawks' practice on Monday, Toews told the media that his team did the right thing by not responding to the hit in a violent manner, and that they were correct to try to win the game:
Jonathan Toews said winning the game was more important than getting drawn into any "stupidity" against the Penguins. #Blackhawks — Mark Lazerus (@MarkLazerus) April 14, 2014
Toews on Orpik response: "Boys did the right thing. I don't expect anything after something like that, that was a clean hit." #Blackhawks — Mark Lazerus (@MarkLazerus) April 14, 2014
Of course, some critics of the team's tactics in that game weren't satisfied even when the man who was hit spoke out:
That doesn't help Laz's already weak argument. 't @brengel23: @MarkLazerus @thekapman To be fair, what would you expect him to say? — David Kaplan (@thekapman) April 14, 2014
It goes without saying what our stance on this matter is, so we'll simply finish by saying this: the team has made it clear that they are more focused on winning games than "settling scores" or whatever other macho drivel people like David Kaplan and Keith Jones are spewing.