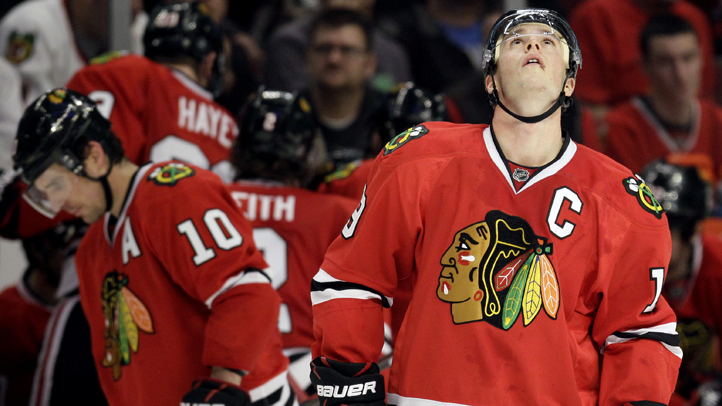 The news rocking Hawks Nation out of the morning skate today is that Jonathan Toews will miss out on the encounter with Detroit due to an upper-body injury. According to Joel Quenneville it is unrelated to the wrist/arm injury that caused him to miss a game and a half before the All-Star break.
This isn't good news, but it isn't surprising.
Toews has been off for a while now, and the only conclusion was that he was carrying an injury. What's really frightening is that it's pretty obvious Toews is likely to not be all right the rest of the season, even though he'll play through whatever he's carrying.
The Hawks need a fully operational Death Star if they're going to get where they want to go in the spring, and everyone should have doubts if they're going to get it. And the Hawks don't have the luxury of resting him for a stretch to get him right, because thanks to their mid-season bout of idiocy, they need every point they can get. That's probably why he was allowed to play through whatever he has up until this point, which means it's been deteriorating for a stretch. Doesn't lead you to believe it'll get better.
The other news that will drive us all to the bar in the daylight hours is that John Scott will return to defense tonight ahead of Sami Lepisto. That's right, in a game against the team that probably moves both puck and feet more smoothly than anyone, Joel Quenneville has opted to have his two slowest d-men out there together. If you set yourself on fire, we won't stop you.
On the other side, a team with the luxury of resting an ailing star is doing so. Pavel Datsyuk had minor knee surgery this morning and will miss a couple weeks. But with the cushion the Wings have on the division, they can afford to so. That helps, but probably doesn't cover up the gap that Toews leaves entirely.
Guess we'll find out who's the deeper team tonight.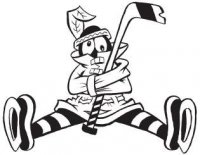 Sam Fels is the proprietor of The Committed Indian, an unofficial program for the Blackhawks. You may have seen him hocking the magazine outside the United Center at Gate 3. The program is also available for purchase online. Fels is a lifelong 'Hawks fan and he also writes for Second City Hockey .