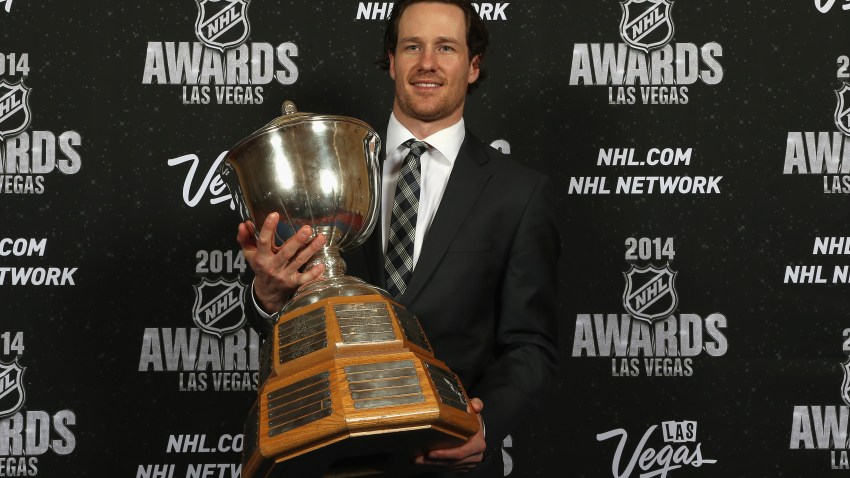 The Chicago Blackhawks were well represented at the 2014 NHL Awards in Las Vegas on Tuesday night, and even though defenseman Duncan Keith was the only one to take home some hardware in winning the Norris Trophy, plenty of his teammates and bosses got some love from voters as well.
Jonathan Toews, a finalist for both the Selke Trophy and the Mark Messier Leadership Award, didn't win either trophy, being beaten out by Patrice Bergeron for the Selke and Dustin Brown for the Messier. Toews did finish third in Selke voting however, and he also finished in ninth place in the voting for the Hart Memorial Trophy, given to the league's MVP. He received two second place votes and four third place votes for the award, which ended up going to Pittsburgh Penguins captain Sidney Crosby.
Marian Hossa also got a bit of love for the Selke, finishing in fifth place in voting and getting more votes than any other winger for the award. Patrick Sharp also got a bit of attention from voters, finishing in 20th place in Hart Trophy voting with two fourth place votes to his credit.
In addition to Keith winning the Norris Trophy, he also received votes for the Lady Byng Award, in which he finished in 19th place, and for the Hart, finishing in 15th. Brent Seabrook got a fifth place vote for the Norris Trophy, finishing in a tie for 17th.
Forward Patrick Kane finished in 14th place in Lady Byng voting behind six fourth-place votes (he also received a second place vote), and Ben Smith also received votes for the award given to the player who best exhibits "gentlemanly play," finishing 16th in the balloting. Colorado Avalanche forward Ryan O'Reilly picked up the trophy for his excellent performance in the 2013-14 campaign, in which he only received two penalty minutes despite playing heavy minutes for the Avalanche.
The Blackhawks' front office and coaching staff also received votes for awards, with GM Stan Bowman finishing in fourth place in the voting for GM of the Year. He received three first place votes and four second place votes, finishing well behind winner Bob Murray, GM of the Anaheim Ducks.
As for Joel Quenneville, he didn't fare too well in Jack Adams voting, finishing in ninth place with just one first place vote to his credit. In a vote that surprised no one, fellow Central Division denizen Patrick Roy ran away with the award after leading the Colorado Avalanche to the postseason in his first season behind the bench.
For a full list of award vote tallies, you can visit SB Nation's NHL page.