The Nashville Predators or as they're known to Hawks fans, "The Most Annoying Team In the World" visit the United Center tonight.
Every year, the Preds show up with no names, a bunch of kids, Shea Weber and Ryan Suter, and make life hell on everyone. They do it through their exemplary coaching and discipline. They forecheck hard, they don't take penalties, they make you pay for your mistakes and don't make any of their own. They put up roadblocks in the neutral zone, exit theirs cleanly, it's just infuriating.
The Preds have gotten off to a some-good, some-bad start. They're 5-4-1. They've been hurt by injuries, with top liners Martin Erat and Mike Fisher missing most of the seasn so far. Fisher will be out tonight again as well. They're also missing a couple bottom liners, and are mixing and matching down there.
The Hawks have a clean bill of health. It looks like Rostislav Olesz will actually emerge from the shadows tonight and prove that he does exist. Why this player who makes $3 million can't consistently scratch ahead of John Scott is going to be one of the questions we'll be asking all year. Either way, he gets a chance to prove that he can be something of a part for the rest of the season. If he can manage more than two shifts, he'll have done more than Scott. Sami Lepisto will also get his second consecutive sweat. And he'll be needed, as the Predators require your defensemen to skate. He was solid on Saturday, hopefully again.
In games agains the Predators, your breakouts have to be so disciplined. Whereas the Hawks like to stretch defenses by keeping a player or two high, the Preds don't allow that pass to be made. They'll keep two forwards right at the points to keep everyone hemmed in. Your passes have to be quick, accurate, and crisp.
But the Preds have had serious difficulties once you get into their zone this year. They're averaging getting outshot by 10 per game. Outside of Suter and Weber, the rest of the crew has had trouble getting out of their zone. The Hawks have to pin them down for long stretches to create traffic in front of Pekka Rinne, because he'll stop anything from the outside.
These games are never fun. It won't be tonight.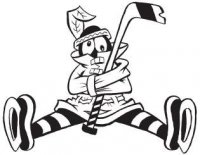 Sam Fels is the proprietor of The Committed Indian, an unofficial program for the Blackhawks. You may have seen him hocking the magazine outside the United Center at Gate 3. The program is also available for purchase online. Fels is a lifelong 'Hawks fan and he also writes for Second City Hockey .