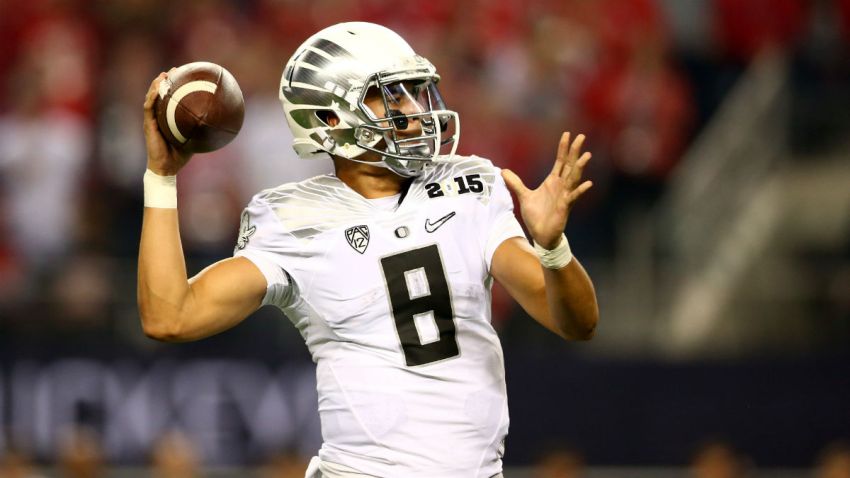 With the first round of the NFL Draft set to begin on Thursday night, one would think that all eyes would be on the Tampa Bay Buccaneers as they make the first selection, but the No. 2 pick is the one on everyone's mind.
That's because the Tennessee Titans, who currently hold the pick, could be getting offers from a number of teams looking to move up in the draft order, presumably to select University of Oregon quarterback Marcus Mariota. The odds are strong that the Buccaneers will take Jameis Winston with the first overall pick, meaning that there will only be one top-tier quarterback remaining on the board after that selection is made.
One of the teams that could be looking to acquire the pick is the Philadelphia Eagles. Head coach Chip Kelly worked with Mariota at Oregon, and even though the quarterback rarely took snaps under center in the college ranks, the ability to work out of the shotgun could prove beneficial in Kelly's high-tempo offense.
The problem for the Eagles is that they may not be able to put together a package attractive enough to secure the pick. Rumors swirled that the Eagles were looking to acquire the 19th pick in the first round from the Cleveland Browns in order to add a sweetener to the pot, but it's unclear if that would be enough to get the Titans to move.
Speaking of the Browns, they are another potential landing spot for the second pick if the Titans elect to trade it. They also hold the 12th pick in the draft in addition to the 19th, and those two picks packaged together would be an excellent starting point if a trade is going to happen.
Another team that could potentially move up to grab Mariota is the New York Jets. They currently hold the sixth pick in the draft, and they also could potentially move defensive end Muhammad Wilkerson in a deal. That also could be an enticing package for the Titans, who are looking to gain pieces and picks in order to give up what many consider to be a golden ticket of sorts.