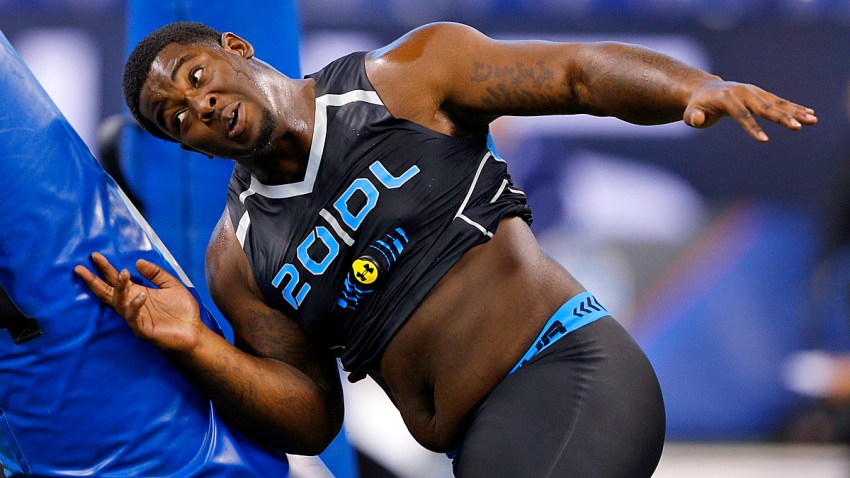 The Chicago Bears are exploring all sorts of options for what they want to do with their draft picks when the NFL Draft gets underway on Thursday night, but a couple of players who could potentially be on the team's radar may have just seen their draft stock take a bit of a hit.
That's because Timmy Jernigan, a defensive tackle out of Florida State, and teammate Telvin Smith, a linebacker, both failed drug tests at the NFL Combine in February, Jay Glazer of Fox Sports reported on Monday night. Jernigan's test was deemed to be diluted, and while the immediate impact on his positioning in the draft is obviously not known, it does raise a serious red flag for teams to consider when evaluating whether or not to pick him.
In terms of Jernigan's position on the Bears' draft board, there would seem to be several players who would be a better fit even before the failed test. Aaron Donald out of Pittsburgh would be a great fit (but only if he gets past teams like Tampa Bay and Detroit on draft day), and Louis Nix III could also fit in well, especially if the Bears decide to trade down in the first round. That would also open the door for Jernigan, and even though Jernigan would likely fit the Bears' 4-3 scheme better (Nix is a better option as a nose tackle in a 3-4 defense), the positive drug test could influence Phil Emery to steer clear of him.
As for Smith, the Bears could very well be looking for another linebacker after swinging and missing on both of their picks at the position last year. Jon Bostic and Khaseem Greene didn't exactly wow fans and scouts with their play in their rookie seasons, and while both could still develop into quality NFL players, Smith has a lot of attributes that are getting some serious love from NFL Draft experts. He is projected to be a second to third round pick, and his huge size could get Emery's attention.