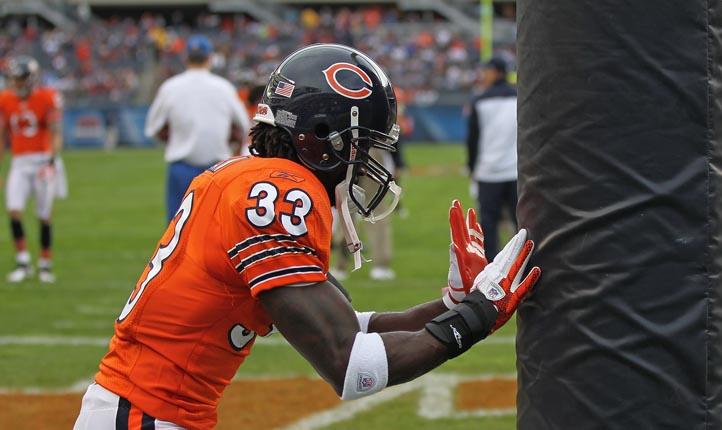 With off-season activities starting this week, the Bears stepped practice up a notch. Players could put on helmets, practice sessions are longer, and offense and defense could finally face off. That last stipulation allowed for an in-practice rivalry that could provide a boost to the Bears offense and defense.

In a match-up of Pro Bowl players, receiver Brandon Marshall and cornerback Charles Tillman faced off on the first day of workouts. They pushed each other, and Lovie Smith couldn't help but notice.

"You want to see a bit more competition. That's why it's good to see guys like Charles Tillman and Brandon Marshall face off," Smith said with a smile. (Well, as much of a smile as Smith will allow.)

Marshall called Tillman a smart player.

"It's fun because he's a smart DB," Marshall said. "He's really good. He's really talented. He keeps me on my toes. It's like a chess match out there. The only thing I don't like about him is he's in such good shape that he talks all the way through practice and I'm so winded I can't respond to him half the time."

In Miami, Marshall was usually matched up with Vontae Davis in practice. Though Davis is talented, he's also young and inexperienced. There's no way he could provide Marshall the challenges day in and day out that Tillman can.

And that's exactly what should make Bears fans happy. Tillman will be more ready for the best receivers of the NFL because of his work with Marshall, while Marshall will be in better shape because of his work with Tillman.
Copyright FREEL - NBC Local Media