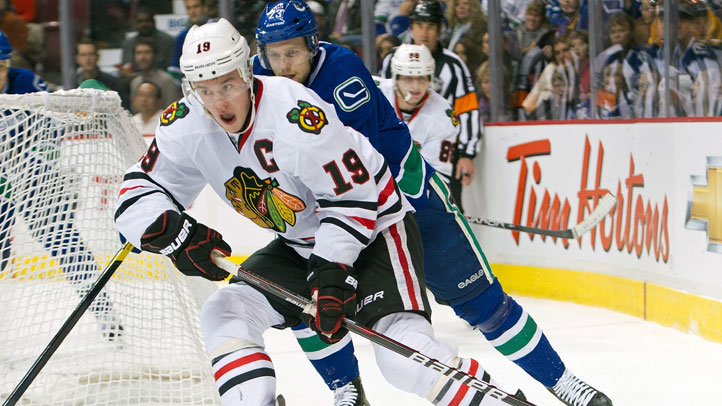 Couple stories out of Hawks practice today:
The big one is that Jonathan Toews actually put on skates today. Better yet, he even used them. Though he didn't practice with the team, he skated on his own before practice, and that's a big step in recovery from concussion. There's only a couple more to go. If he reports no setbacks, and that's always an "if" when dealing with this sort of thing, he'll most likely skate on his own a couple more times before joining practice. From there, it's a couple practices before being cleared for contact, and then it's basically whenever he says go. Not going to be Friday or even this weekend, unless there's some sort of miracle involved. But next Friday at Dallas or home to the Capitals the following Sunday wouldn't be totally out of the question.

More good news, kinda, is Niklas Hjalmarsson practiced again. With Sami Lepisto's injury on Tuesday, it would be a surprise if Hjalmarsson doesn't enter the lineup Friday night against the Rangers. Not that he should be rushed just because someone else got hurt, because that might make things worse. But he's been practicing for a while now, and if he hasn't had any reverses in health, he's likely to go. Better yet, he can return on the 3rd pairing, so there won't be the pressure for him to be at the level he has failed to approach basically all season. Or at least we hope.

Quenneville said that Lepisto is out indefinitely, but apparently he was walking around the facility today. That's news to us, as we expected torn ligaments, surgery and complete disappearance after what was an ugly twist and turn on that ankle and knee. Still, probably going to be a while.

Ray Emery will get the chance to bounce back from a less than stellar effort in St. Louis tomorrow as well, and I'll have a post about the goalie conundrum later. Suffice to say, it suggests that Quenneville wants Emery to win the job for the stretch run if he's giving him a chance to rebound.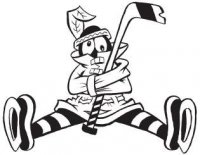 Sam Fels is the proprietor of The Committed Indian, an unofficial program for the Blackhawks. You may have seen him hocking the magazine outside the United Center at Gate 3. The program is also available for purchase online. Fels is a lifelong 'Hawks fan and he also writes for Second City Hockey .