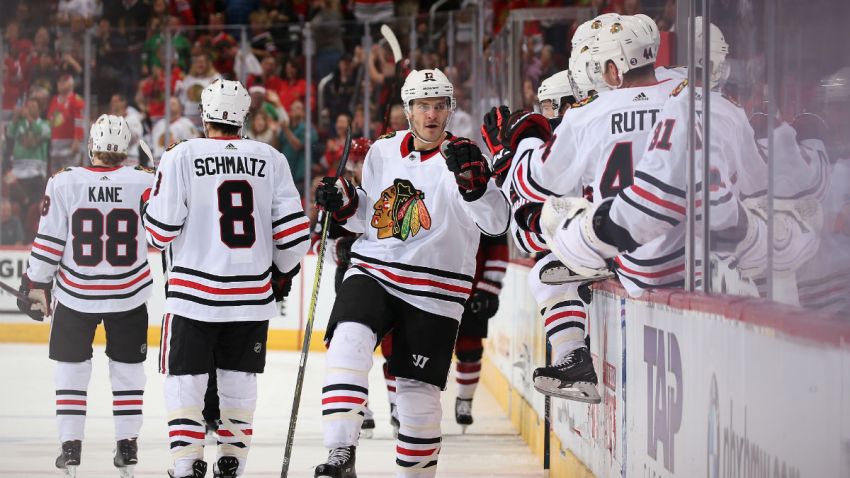 The Chicago Blackhawks got off to a sluggish start against the only winless team in the NHL, but they finished strong as they picked up a 4-2 win over the Arizona Coyotes on Saturday night.
The team got big performances out of their key contributors, including Corey Crawford and Patrick Kane, but it was a night dominated by the depth players on the team, including the fourth line.
With that in mind, here are our Three Stars of the game:
Third Star: John Hayden
On the Blackhawks' third goal of the game, Lance Bouma is going to get a lot of credit, and rightfully so. He was the one who helped screen Louis Domingue and picked up a loose puck for the rebound tally that gave the Blackhawks their game-winning goal with less than five minutes to go in regulation.
The real star of the play, however, was Hayden. Not only did Hayden help pry the puck loose behind the net thanks to a tenacious blend of backchecking and physical play, but he also got to the front of the net and provided a screen as well, showcasing some of the talents that have made him an indispensable player in the early going of this season.
Second Star: Jonathan Toews
The role players on the team played a big role in the victory, but Toews continued the strong play that he has displayed all season as the Blackhawks snapped a string of three losses in four games.
Toews had a pair of primary assists in the game, including one on Richard Panik's first period goal. On that play, Toews made a nifty move along the boards to clear out Coyotes defenders, and then immediately plunged back into the offensive zone from the blue line. That move gave Panik a chance to get to the front of the net, and he deflected home a shot to give the Blackhawks an early lead.
First Star: Tommy Wingels
If a Blackhawks fan was to choose the team's biggest surprise this season, it would likely be a dead heat between Wingels and Jan Rutta, and the veteran forward showed his mettle again in this game.
Not only did Wingels score the final goal of the game, but he also had the primary assist on Bouma's game winner in the third period. To cap all of it off, Wingels drew a penalty and very nearly scored on a penalty shot, but he was robbed by a controversial call that got the goal waved off.
Either way, the veteran has been a key contributor to the Blackhawks in a variety of ways, and he has been a mainstay on the fourth line, forcing Tanner Kero out of the lineup at various points this season.